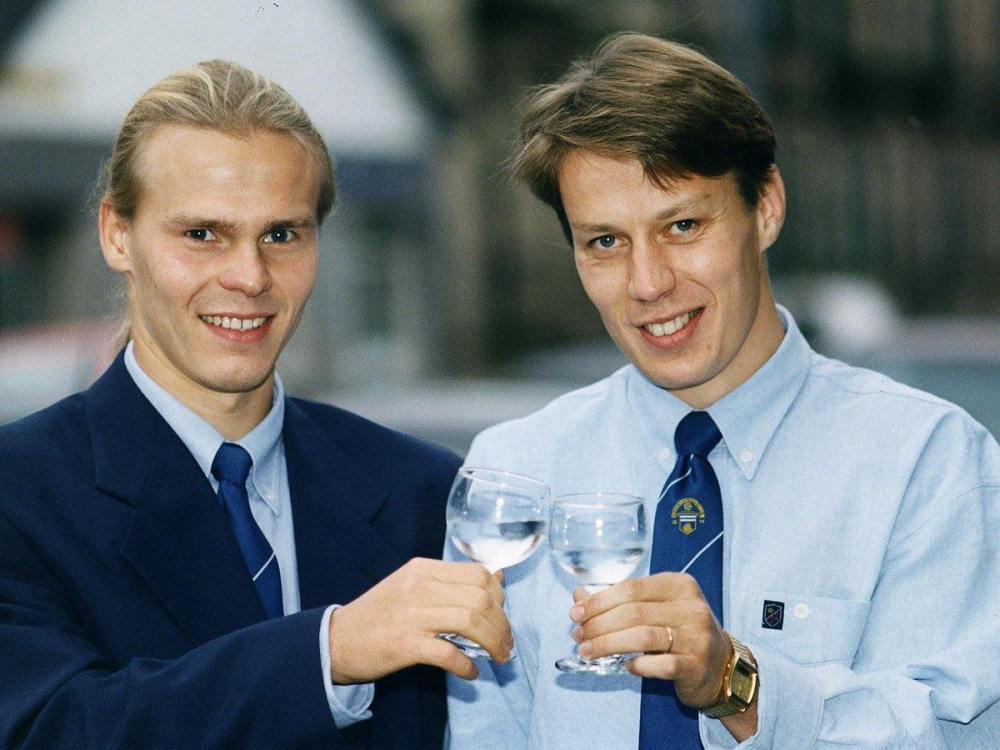 (Photo- www.tellhimhespele.com)
The Flying Finns
by Russell Gordon
Tuesday's deadline day drama certainly had us all glued to our phones, in what was perhaps the most exciting day of positive movement in and out of Cappielow since the inception of the windows, around a generation ago. Even when Douglas Rae opened the purse strings in the January of 2015 to bolster our promotion charge with the signings of Peter MacDonald, Ross Forbes and the re-signing of Declan McManus, our enthusiasm was tempered by the farcical nature of Michael Tidser's arrival in spite of his ineligibility to actually play until the following season.
But with the arrival of Finland Under 21 international Jaako Oksanen on loan from Brentford, it was only natural that those of us of a certain vintage looked back fondly to Nordic influxes of days gone by. I wouldn't be doing them justice to attempt to write about the Great Danes of the 1960s, such as Kai Johansen, Carl Bertlesen, Borge Thorup, Jorn Sorenson, Preben Arentoft and the man in black, Erik Sorenson; but my memory does stretch back to the arrival of Finland internationals Janne Lindberg and Marko Rajamaki in the autumn of 1994.
We were first exposed to Janne a month before his arrival at Cappielow when he played for Finland in their opening Euro '96 qualifier against Scotland, inadvertently assisting John Collins' goal as his clearing header fell nicely on the Scotland midfielder's left foot, for him volley the national team into a 2-0 lead in Helsinki, a result Scotland would hold onto as they started what would become a successful qualifying campaign.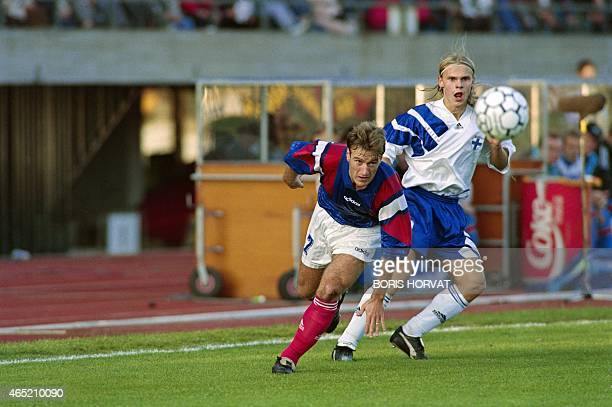 One of world football's most iconic figures of the 1990s... tussles with French midfielder Didier Deschamps.
(Photo-Getty Images)
The autumn of 1994 wasn't a happy time at Cappielow. The club had been relegated to the Second Division for the first time in their history, amidst a season-long injury crisis the previous year, and league reconstruction that saw Morton being amongst five clubs relegated from the First Division. A stuttering start to the campaign in '94 did little to suggest that Morton would be pushing for a speedy return to the First Division though, only for them to turn up at Shielfield Park in Berwick with two trialists from Finnish club MyPa47 in the ranks. The result on the day wasn't to be a positive one, as Morton fell to their third league defeat in a row, 1-2 to the hosts having previously fallen 0-1 to Clyde at Cappielow, and suffered a 0-3 hosing at Palmerston Park.
But it didn't take Allan McGraw and the board long to decide to take the plunge on Janne and Marko, and a fee of £250,000 found its way to Kouvola, unthinkable for Morton in these times. The signings of the Finns were by no means a quick fix, as results remained inconsistent towards the festive period. Whilst over a quarter of a century has passed, and my memory could be playing tricks on me, the Scottish Cup tie against Kilmarnock in my mind proved to be the turning point of the season, against what was a very good Premier Division team at the time. My standout memories from the 0-0 draw at Rugby Park in late January were Stephen McCahill's header narrowly clearing Dragoje Lekovic's crossbar to deny us a shock win, and the imperious performance on Janne on the day. Alas, Morton were to suffer a narrow extra time replay defeat by the Ayrshire men at a bouncing Cappielow, but kicked on from there, with three wins in February, including an absolutely crucial 1-0 win over Stenhousemuir, only a week after their incredible Scottish Cup slaying of Aberdeen; courtesy of a goal and fantastic performance from Marko.
But Morton being Morton, it was never going to be that easy, and a sticky patch in March kept things interesting in what was to be a four-way battle for promotion between ourselves, Dumbarton, Stirling and Stenny. Things were to come good the following month though with crucial wins against East Fife and Clyde, before a memorable 4-3 win on their return trip over the border set up what was effectively a title decider against Dumbarton. Of course, it was all to end joyously, as Marko's incredible goal put the icing on the most delicious of cakes, and we retook our place in the second tier at the first time of asking, bagging a nice little silver pot in the process. Derek McInnes was to win the Player of the Year award, but it would be foolish not to acknowledge the contribution of our two imports. Whether Morton would've been in the promotion race without them is seriously doubtful.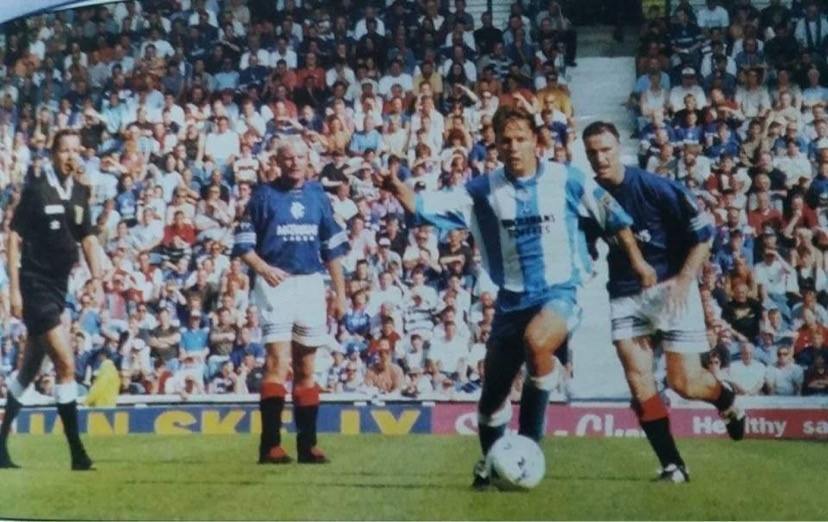 A couple of awestruck admirers watch on as Janne launches a Morton attack at Ibrox in 1995.
(Photo- Chris McNulty)
What wasn't in doubt though, was that Morton with their two Finnish stars were a force to be reckoned with, as they took the following season by storm, with Janne, Derek McInnes and Alan Mahood pulling the strings in midfield and Marko providing a flair on the wing that is still spoken about in glowing terms even now. Whilst there were a number of great performances and results that season, particularly early on, it was on Morton's visit to St. Mirren in late September that Marko perhaps produced his finest performance in a Morton shirt, as he absolutely tormented the Saints defence in a 4-1 win, cementing his place not only in the hearts of the Morton support, but as a hate-figure amongst the Buddies faithful. What a man.
Of course, that incredibly exciting team was to come up just short, owing in no small part to the departure of Derek McInnes to Rangers and the season-ending injuries to Janne and Alan Mahood. Marko was to continue to do his bit to drag us through, with vital goals in the run in against Hamilton, both home and away and an admittedly howling miss in the vital 1-0 win at home to fellow promotion hopefuls St. Johnstone. He was of course to equalise in the final day showdown against Dundee United, but Morton were left to rue their misfortune and look forward to the following season.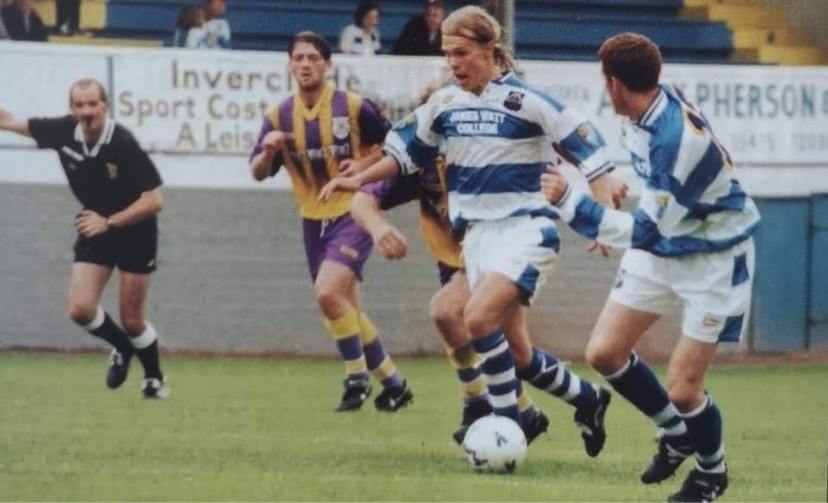 Marko leads the charge in a 3-0 win against Clydebank at Cappielow, on the opening day of the 1996-97 season.
(Photo- Chris McNulty)
The 1996-97 campaign was to prove both players' final season at the club, and was an anti-climax for us all, as a much-fancied Morton failed to live up to expectations, finishing the season in eighth place, comfortably clear of relegation, but miles away from a promotion play off place, never mind runaway champions St. Johnstone. There were to be highlights, however- Marko's early season winner against Falkirk was delightful, as winners against Falkirk tend to be, and there was the incredible League Cup tie against Aberdeen which ended in a 3-7 defeat, with Morton coming from 0-2 down with 15 minutes of normal time remaining to lead 3-2 going into the last minute, only to suffer another hard-luck story. In truth, with promotion becoming a more remote prospect as the season progressed, McGraw put all his eggs into the Scottish Cup basket, with a fine replay win against Dundee setting up a quarter final with Kilmarnock at a near capacity Cappielow. There was to be no hard-luck story to this cup defeat though, as Morton were resoundingly trounced 2-5 by Killie, in spite of a brief second half fightback.
As the season petered out, and the players' contacts ran down, their departures became inevitable and a really thrilling, but oh so brief chapter in Morton's history was to reach its conclusion, to be succeeded by the Scott era, which I'm sure is an article or two for another day.
Janne was to go onto pastures new in Germany with FC Saarbrucken before finishing his career back at MyPa47 and embarking on a career in coaching in his homeland, whist Marko was to enjoy brief stints at Hamilton and Livingston, even playing against Morton for the Accies, also finishing his career in his native Finland, with TPS Turku and enjoying a successful coaching career. Both have returned in the intervening years to visit, Marko turning out in a testimonial in 2006 as well as attending a game against Hamilton in 2012 and receiving a rapturous reception. To my knowledge, Janne hasn't made a match on his return, but his daughter Nanne has been a vocal supporter of the club through her social media accounts, so it would be rude not to give her devotion to the cause a mention!
Since their departure, we've seen Jani Uotinen flying the flag and collecting a Third Division winners' medal in 2002-03 for his troubles and Jonatan Johansson's fast flowing, easy on the eye (or something like that) brand of football help us secure safety in the rollercoaster 2018-19 season.
Let's be honest though, Morton fans love a signing from that part of the world, and will surely take to Jaako. No pressure, but there are some pretty big shoes needing filled, young man!
Thanks to Jonathan Mitchell for his contribution into the research for this piece and to Chris McNulty for his help with archive photographs.
1

10