MorTEN- Whatever Happened To The Likely Lads?
---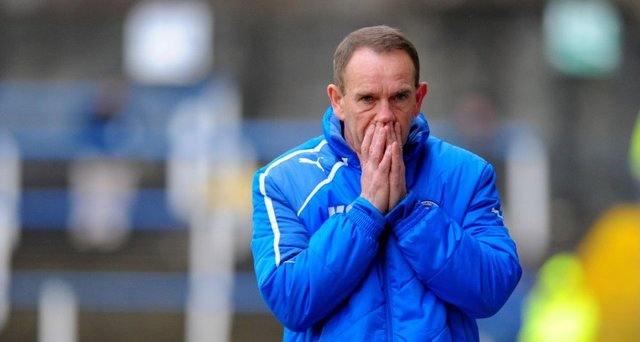 (Photo- The Scotsman)
MorTEN- Whatever Happened To the Likely Lads?
by Russell Gordon
Saturday sees Morton return to New Douglas Park, Hamilton on league duty for the first time in over seven years, with only a surprise, Ross Forbes-inspired Betfred Cup victory en route to a Hampden semi-final in 2016 since that previous visit. Never a happy hunting ground since it opened in 2001, with only a late Alex Williams winner in the 2003-04 collapse season, a victory on Valentine's Day 2012 that was somewhat overshadowed by other events in Scottish football that day, and a couple of draws to show for our troubles in South Lanarkshire. Added to that, our return visit in 2003-04 resulted in a 6-1 hammering as Hamilton hacked away at our lead before pipping us to the post for promotion on the final day. Another unhappy memory was the injustice of Chris Templeman's last minute equaliser in 2007 being overturned as the players lined up to restart the game when hapless linesman Ross Haswell convinced referee Craig Thompson to overturn the award of the goal under pressure from the Accies players, a decision that still rankles to this day with some (me, at least).
Scene Setter
But, for all those horror stories, nothing would compare to the abject misery, shame and embarrassment that befell Morton on the 3rd of May 2014, a day that would leave an indelible scar on the by then 140 year history of Morton. With Accies pushing for the title against their already relegated visitors, surprisingly enough, the travelling fans looked forward to the match with a degree of optimism. A victory against Hamilton's main challengers Dundee, and a draw with play-offs bound Falkirk, both at Cappielow on the previous two Saturdays, suggested that whilst the season from hell could not just be laughed off, there was reason to believe that Kenny Shiels was capable of turning Morton around in League One the following season.
Whilst Accies needed to win by eight clear goals, they also required a favour from their conquerors of the penultimate weekend, Dumbarton. Having been on the wrong end of a 4-1 trouncing at The Rock, they'd given up pole position to the Dens Park side- who, the previous week thought they'd blown their chance in losing at Cappielow. All these circumstances combined to create the perfect storm, as a team that was already looking forward to their holidays and going through the motions faced up to a team that simply couldn't afford to take the foot off the gas.
2-0 down after 8 minutes, we were fighting a losing battle from the off, as Tony Andreu bagged a first half hat trick, with the only moment of respite being a stunning Dougie Imrie strike which reduced the arrears as Morton headed in facing a 5-1 deficit at the break. What was said in the away dressing room in that period is up for debate, but there have been a number of stories since that day of some very harsh words being spoken and perhaps a few fists flying.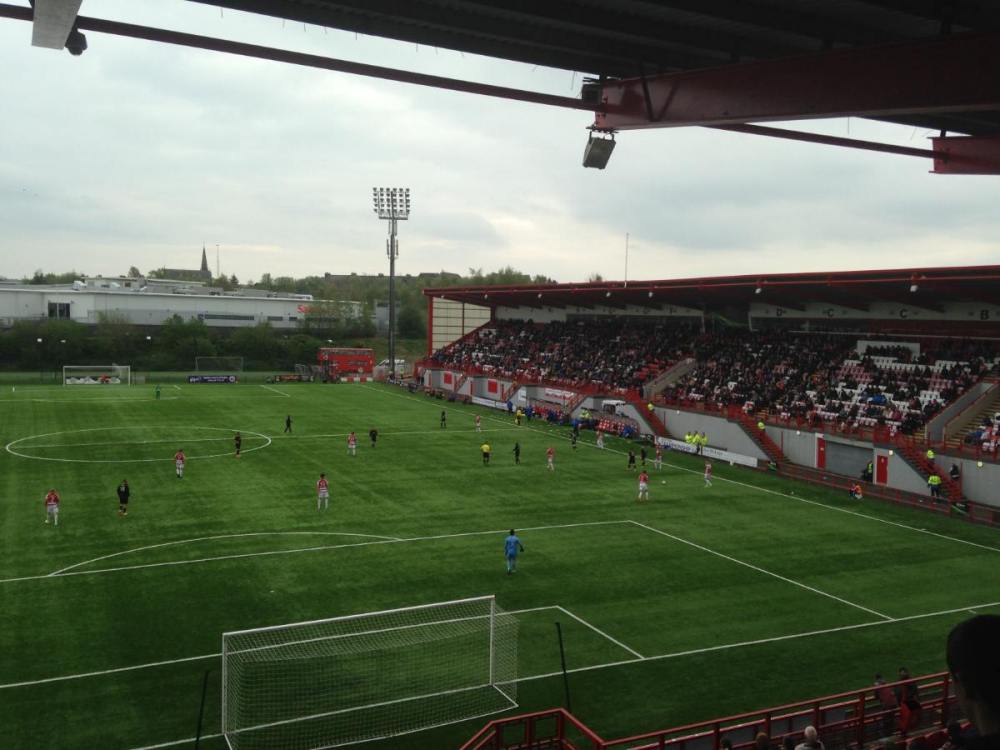 A brief point in the afternoon that the ball wasn't nestling in Nicolas Caraux's net.
(Photo- Russell Gordon)
The second half of course wasn't to get any better as the goals kept coming. Before taking up where they left off, Hamilton conceded a penalty as former 'Ton custodian Kevin Cuthbert felled Hamilton-bound Imrie in the box. Incredibly, the only Morton player to come out of the game with any sort of credit wasn't entrusted with the responsibility of taking the spot kick, and Rowan Vine's pathetic effort was comfortably stopped by Cuthbert. Sixth and seventh goals duly arrived before Imrie again got himself on the scoresheet, but the last 15 minutes were to really put Morton's name in the history books for all the wrong reasons, as Mikael Antoine-Curier added his final couple of strikes to help himself to a second half hat trick and a total of four for the day either side of an own goal from Stuart Findlay.
It was to be a bittersweet afternoon for Hamilton however, as Dundee did enough to get over the line, but it was only to delay their joy, as they disposed of Falkirk before their dramatic victory that took them up at the expense of Hibs, only suffering relegation this summer. Of course though, such an unprecedented result in a match between two clubs of such similar stature was to result in conspiracy theories, allegations of corruption and finger pointing, particularly from Tayside. As we all know too well, this isn't the first time such allegations have been thrown at Morton, and Dundonians were quick to point to Morton's very good performance in beating the Dees only a fortnight previous. I'm more inclined to believe it was a concoction of circumstances that all came together, and would argue that had Dundee United needed to do similar when they took six off Morton in 2019, they would've done so without thinking twice. They didn't need to, whilst Hamilton did, hence you don't often see results such as this in games that don't involve Fort William. What was particularly galling to see was Morton players suited and booted, and enjoying themselves less than half a mile away from the scene of the crime at Hamilton Racecourse the following day on their various social media accounts. Footballers of course deserve their social lives, but having watched such an inept performance that we're still reminded about to this day, and will be continue to be reminded about for years to come, wasn't pleasant.
So, what happened to the players from that day?
Kenny Shiels (Manager) Shiels actually attended a meeting with supporters the evening before that defeat, outlining his plans for an immediate return to the Championship. Those plans were in tatters 24 hours later, as he brushed off the result, saying he was on the way to a funeral the next day, and some things were more important. He was of course correct, but there are times that saying nothing is better than opening your mouth. That wasn't advice that Shiels would often heed. He would go on to manage League of Ireland side Derry City before taking charge of the Northern Ireland Womens' team, who he led to the European Championship Finals, which are delayed until next summer.
Nicolas Caraux A hero of Morton's victory at Celtic Park earlier that season, Caraux extended his deal by another year off the back of that momentous result. What a waste of money. He was to play only one more league match, a 3-1 defeat against Brechin at Glebe Park and a handful of cup appearances the following season. The Frenchman did manage to get himself into the celebration photos as Morton took the title in 2015, so fair play to him for the brass neck. Bizarrely, he wound up in the USA at Atlanta United's B Team, who play in the USL Championship. Now aged 30, he was last seen at his local team, FC Versailles 78, in the fourth tier of the French pyramid.
Darren Cole Probably the worst player in a truly dreadful side- Cole was picked up after being freed by Rangers on disciplinary grounds, and had a bit of pedigree about himself. Capped at various age levels by Scotland, and with a Champions League appearance under his belt for the Ibrox side's previous incarnation, he was to prove an absolute disaster of a signing, of the sort that wakes you up in the middle of the night with a cold sweat from your nightmares. He was to go onto Livingston, who he captained to relegation in 2016, before joining Shiels at Derry City in 2017, scoring in their League Cup Final win in 2018. Never let anyone tell you the League of Ireland is remotely comparable to our Championship if that guy can continue to get a game over there after four years.
Mark Russell Then only an 18-year-old rookie, it was difficult not to feel sorry for Russell to be thrown to the lions in such a rancid team. He was to go on to enjoy a successful season the following year, winning Young Player of the Year with most of the supporters' clubs as Morton came back up, then enjoyed a couple more fruitful years before regressing somewhat and deciding to move to Falkirk, a move which didn't work out too well, like many moves from Inverclyde to Grangemouth around that time. He would then cross the Irish Sea to sign for Finn Harps where he resurrected his career, playing further forward in midfield before returning to Cappielow this summer.
Thomas O'Ware The man so many Morton fans love to hate nowadays, O'Ware was to stick around a few years, bagging a League One medal and establishing himself as a goalscoring centre back, thanks in no small part to Ross Forbes' wand of a left foot. There was a point that O'Ware stood beside Sergio Ramos as one of Europe's top scoring defenders, in 2016-17 season. Like Russell, things were to go stale and he got ideas above his station- moving onto supposedly bigger and better things at Partick Thistle- except, he was to suffer injury problems at Firhill as they narrowly avoided relegation at the expense of Falkirk. The following season was to provide Morton fans with yet more schadenfreude, as O'Ware's winning goal and rauchous celebrations at Cappielow were to prove irrelevant, with Partick not winning a league game for the rest of the season and going down with their usual class, decorum and dignity. They won last season's abridged League One, but he was released to pursue his career at League Two new boys Kelty Hearts, where I'm sure we all wish him well.
Stuart Findlay Like Cole, a defender signed from one of Glasgow's big two, although only on loan. Unlike Cole, a guy who most look back on fondly. He was unfortunate to bag the ninth for Hamilton that day, but it was clear to see there was a good lad in there. Findlay impressed in a way that older Morton fans raved about Jim Duffy in our relegation year of 1985, and left with our best wishes. Loan spells at Dumbarton and Kilmarnock were to follow before he signed for Newcastle. He was to make only one FA Cup appearance for the Magpies before making a permanent move to Rugby Park, where he excelled under Steve Clarke, eventually being capped by Scotland and scoring on his international debut, a 6-0 Hampden win over San Marino. Now playing in the MLS with Philadelphia Union.
Scott Taggart Taggart's Cappielow career fell off a cliff somewhat- after a fantastic first season at right back, he operated more as a sitting midfielder under Shiels, much to the fans' frustration. He would go onto Dumbarton and subsequently Alloa, where he's enjoyed a relatively successful career in the Championship and League One. One wonders what might've been for Scott had it not been for that horrendous season he and Morton endured.
David Robertson Less said the better. Substituted just after half time after a completely inept performance, it was the last the Morton fans were to see of this chancer. He was to go onto Livingston, Ayr and Cowdenbeath, although his career was to come to an abrupt end after being cleared by a criminal court alongside former Dundee United teammate David Goodwillie but then being forced by the Court of Session in Edinburgh to pay £100,000 of damages to a woman that Judge Lord Armstrong ruled the pair had raped in 2011. Not heard of in a football context since, and unlikely to be.
Barrie McKay Another Rangers loan signing who didn't set the heather alight- he was never as bad as many seem to remember him, but you could be forgiven for thinking that we got the crap twin brother of the guy the Daily Record talked up for multi-million pound transfers as Rangers reached the conclusion of "the journey". McKay would head to Raith Rovers on loan the following season, before playing an integral part in Rangers' promotion a year later, scoring a screamer in a Scottish Cup semi-final win over Celtic before they hilariously fell to Hibs in the final. A brief cameo for Scotland in a 3-0 friendly defeat to France in Metz would follow that summer, and he would eventually re-join former boss Mark Warburton at Nottingham Forest for £500,000 in 2017- a mere tenth of the Scottish media's valuation of him a couple of years before his move, if my memory serves me correctly. A year later he moved onto Swansea and subsequently Fleetwood on loan last season.
Faoud Bachirou A fans' favourite in his time at Cappielow, this was to prove Bachirou's last appearance in a Morton jersey. He was one of the only two players to receive a rating higher than 1/10 in Jonathan Mitchell's match report in the Greenock Telegraph (he was rated 4/10 and Imrie rated 6/10), but was to leave under a cloud, amidst rumours that he went on strike in order to engineer a move whilst he still had a year remaining on his Cappielow contract. He was to eventually move onto Swedish side Östersunds, lifting the Swedish Cup and enjoying an excellent run in the Europa League, although he missed some of that run having moved on to Malmö during that season, bagging Morton a six figure sell on fee in the process. He would also feature for Malmö in Europe before moving onto Nottingham Forest in 2020. After a frustrating time at the City Ground, he has been told he's free to go, with Cypriot club Omonia Nicosia apparently chasing his signature. I think it would be fair to say he divides opinions amongst Morton fans, with many hero worshipping him, and others left with a sour taste in the mouth over his alleged conduct in negotiating his move.
Rowan Vine Another loan signing, and that he couldn't get a game for Hibs that year tells you all you need to know. They were the only team that came close to us for comedy value in 2013-14. A man of many clubs, his league career was over after that day, with brief spells at clubs like Gosport Borough, Hartley Wintney and Southall becoming commonplace. He was last seen at Hemel Hempstead Town as a player coach. It's terrifying to think what Morton actually paid Vine (and fellow highly paid charlatans such as the long since departed by that point Nacho Novo, and Garry O'Connor, an unused sub on the day), such was the desperation to survive with the prospect of Rangers, Hearts and eventually Hibs bringing big crowds to the Championship the following season. Vine conceded a penalty a minute before the break that day as well as missing one a minute after. Very few tears were shed when he walked out the door never to return. Thankfully, he didn't let the door hit his arse.
Dougie Imrie A pantomime villain to so many Scottish football fans, and the man who stood to gain the most from Morton's hammering that day, but no accusations could be thrown at Imrie for his performance. To be honest, the game was a microcosm of Imrie's season, with him charged with the thankless task of dragging his teammates through, but ultimately to no avail. Although he went onto sign for the Accies a few weeks later and became a legend there, his teammates could've taken a leaf from his book. He will of course go down in history for his role in a much happier occasion that season, but it was a sad consequence of Morton's relegation that he was to leave. He received a great reception the only time he would go on to play against Morton in that 2016 cup tie, in spite of giving Accies the lead from the spot in our 2-1 win. He's since retired and is now coaching at Livingston.
Archie Campbell Campbell replaced Robertson in the second half, having little impact as Hamilton continued to plunder the Morton goal. Like Taggart, he had enjoyed a fruitful 2012-13 season before going off the rails to an extent. He would return to the Championship at Dumbarton before establishing himself in the juniors in his native Fife with the likes of Kelty Hearts (prior to their move to the seniors) and Dundonald Bluebell. The departures of Peter Weatherson and Peter MacDonald in the summer of 2013 as Morton sought to cut costs did little to help Campbell's development.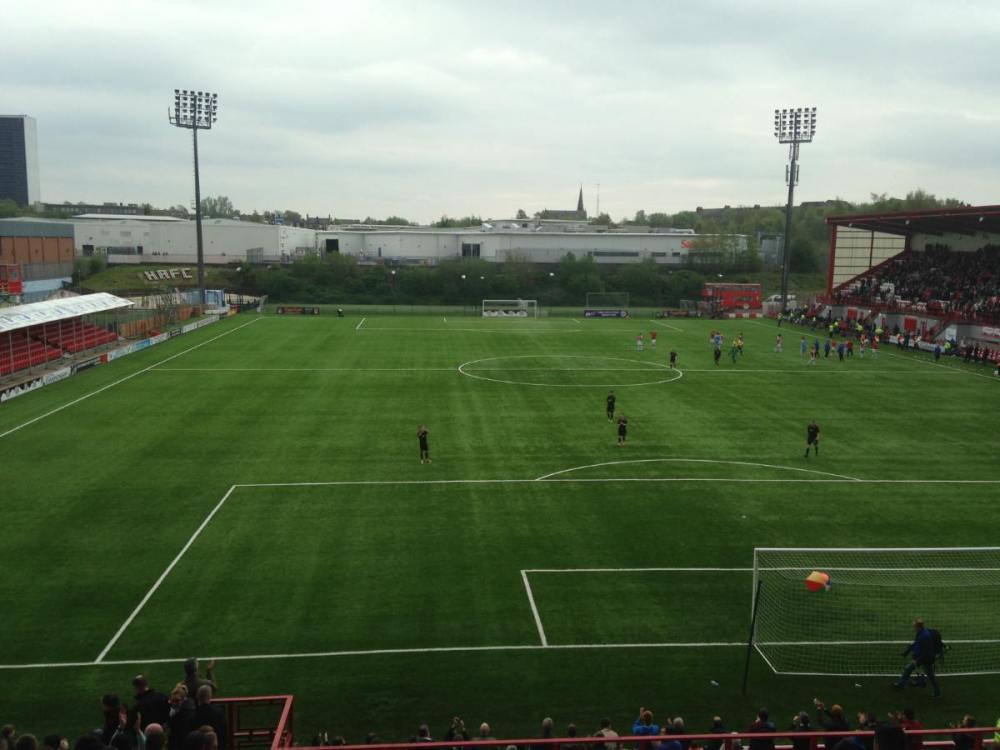 The moment the most brutal of seasons reached the most brutal of climaxes.
(Photo- Russell Gordon)
What Happened Next?
So, what of the fallout from that day? Morton had only lost ten goals twice previously, to Port Glasgow Athletic in 1894 and St. Bernard's in 1933, both games ending 10-1. It had never happened in the modern era. Only one Scottish League club have suffered a similar result in the league since- Hearts beat Cowdenbeath 10-0 in a league match the following season, but when you consider those two clubs' relative resources, it's far easier for the Fife club and their fans to mitigate for that result. MorTEN is a running joke that'll never go away, and nor will the allegations of corruption from Dundee fans, but it could be argued that it did move the board into action. There's absolutely no doubt in my mind that Kenny Shiels wouldn't have taken Morton back up at all, never mind so quickly, and go on to re-establish them again as a Championship club the way Jim Duffy did. It would be remiss of us to suggest that a result like that will never happen again but I suspect the prospect of that is remote in our lifetimes, although Hopkin's charges of a year or two back might've threatened that assertion.
I recall walking to the train station in Hamilton at full time that day, meeting a few mates, getting a train into Glasgow and sitting in complete silence, such was the shock at what had happened. Nobody could quite put their feelings to words. As the dust settled, it's a day I'd say I'm not glad happened, but one that I'm glad I witnessed. No Morton team or game before or since can ever be considered as "the worst ever".
For all there are some we'll look back on more fondly than others, I certainly hope we never see their likes again.
Thanks very much to Jonathan Mitchell for providing access to his match report, reaction and player ratings for research purposes, and for answering my questions as I tried to jog my memory on the events of that day and season.
10