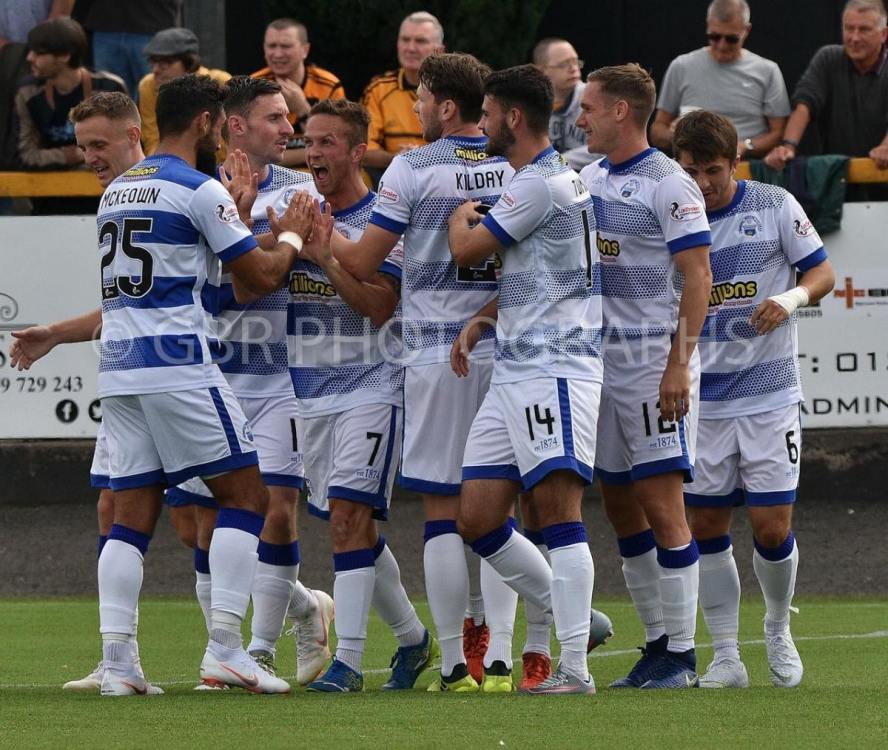 (Photo- Gary Bradley)
Chris Millar- A Tribute
by Russell Gordon
With another new season approaching, and the League Cup group stages taking on the role of the season's curtain raiser in recent years, Morton will welcome some unfamiliar guests next week in Lowland League "runners-up" East Kilbride. However, as we're well aware, their newly signed club captain certainly doesn't fit into such a category amongst the Cappielow faithful. This conveniently gives me a tenuous link to write a long overdue tribute to Chris Millar, which has been delayed due to certain unforeseen circumstances (Well, me spending most of my time watching Scotland competing in the Euros and everything that went along with that).
Links Park, Montrose. A Third Division match on a cold Tuesday night in February 2003 in front of 343 hardy souls, which ended in an uneventful 0-0 draw. One of those games that I remember attending, but remember next to nothing of, such was the complete absence of any noteworthy events. I do however recall that Morton debuted a young Port Glasgow based midfielder who had been signed from Celtic. But not being local myself, I had no idea who the boy was and my pal telling me about Chris Millar as he took a corner in front of me and that sparse crowd watching Morton toil to a point that ultimately helped us over the line was about my only recollection of the evening.
Within two and a half months, the now 20-year-old had made thirteen appearances, was ever present for the remainder of that season and picked up a Third Division Championship winner's medal as Morton embarked on that sensational run to the title. Not a bad way to get your career off and running.
And the following season was to get off to an incredible start as that team of gallus young guys took the league by storm. Chris, along with John and Marco Maisano, Peter Weatherson and Alex Williams were having the time of their lives as John McCormack's Morton side took the approach of "if you score three, we'll score four". There's no point in delving too much into what happened as that season progressed, most of a certain vintage will have seen it with their own eyes and those younger will have had the story relayed to them as one of the less celebrated episodes in Morton's history.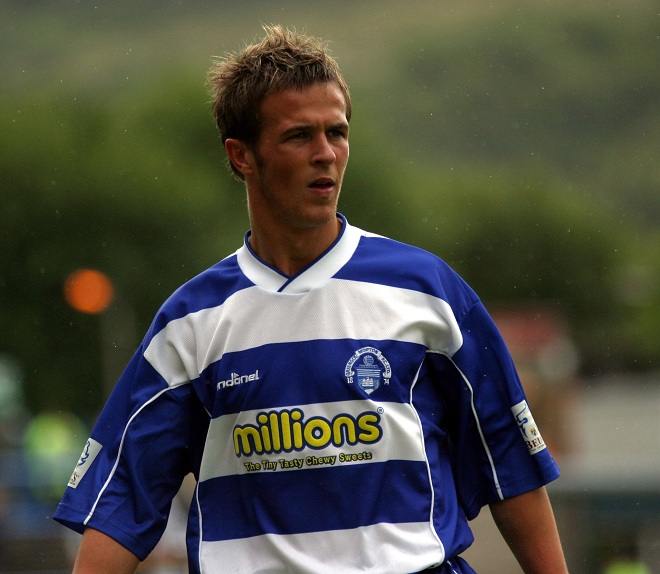 A young Chris Millar during his first spell at Cappielow. (Photo- www.tellhimhespele.com)
For Chris himself, a return of three goals in 27 league games was perhaps disappointing, although two crucial goals against Stenhousemuir and Dumbarton in March helped keep Morton hang on into the race for promotion far longer than they deserved to. But he wasn't immune to the criticism that his teammates had to endure as the events of that season unfolded. As a local lad who was often seen in and around the town enjoying the team's early season success, he became a target for disgruntled fans along with his aforementioned mates. Around the time of turning the tender age of 21, it would've been no surprise to see some players' careers ruined by a season such as that. One could argue that's exactly what happened to Williams and the Maisano brothers, who went on a downward spiral from there on. That he and Peter Weatherson went on to have such stellar careers was a testament to both.
The following season was a funny campaign. Under normal circumstances, Morton should've been clear favourites for the title, but the hangover from the trials and tribulations of the previous campaign just wouldn't clear. In the last season of two clubs automatically being promoted, Morton just about hung onto the coat-tails of eventual champions Brechin and runners-up Stranraer, before coming up just short in the end. Chris himself enjoyed a prolific season- starting 34 league games and scoring 11 goals. The only games he missed being the dead rubber win against Berwick on the final day and a harmful 0-0 draw at home to Dumbarton before our penultimate day visit to Stranraer that the final nail was put in Morton's coffin for another year.
But there were two brilliant highlights of that season that I specifically recall- an incredible volley at Berwick over the festive period and a late, late header at Gayfield to sneak a 1-0 win, and the subsequent joyous pitch invasion. Of course, that late winner was to prove in vain, and Morton would have to face another season trying to get out of the third tier.
Chris's fantastic strike against Berwick at Shielfield Park on Boxing Day 2004. (Video- Morton FC)
However, there were a couple of caveats to deal with that third season- most notably the supposedly monied Gretna bludgeoning their way through the divisions with scant regard for their creditors, but also the rule change that meant that second place didn't now guarantee promotion, with the introduction of the play-offs. Of course, Gretna continued on their merry way, and won the league comfortably, qualified for the UEFA Cup and were only a penalty shoot-out defeat by Hearts away from lifting the Scottish Cup.
Missing only one league game, and scoring five goals, the highlight was a double in a thoroughly satisfying 2-1 win against the champions-elect towards the end of the season as Morton cemented their place as the best-of-the-rest that season. There were however disappointments too- hitting the post in a penalty shoot-out defeat by St. Mirren in the Challenge Cup semi-final was gut-wrenching enough, but when we got to the play-offs, it was Chris's foul that was to prove pivotal as Morton fell at Balmoor to a Dougie Cameron penalty which saw third-placed Peterhead progress to the final where they lost to fourth placed Partick Thistle. Both clubs had finished the regular season 13 points behind Morton, who were left to lick their wounds as "Let's all laugh at Morton" reverberated around Balmoor following Partick's completely unmerited success. If it wasn't for bad luck back then, we'd have had no luck at all.
But there were to be no mistakes the following season, as Morton came out the traps immediately and led the league from the first day to the last, claiming a Scottish Cup scalp of SPL Kilmarnock along the way. Chris returned five league goals from 30 games, including crucial goals against Forfar and Peterhead, and one of the nine in the late season rout of the Angus club as we returned to the second tier after a six-year hiatus.
His first season of First Division football wasn't to be particularly enjoyable, owing mainly to the folly of Morton's hapless manager, Jim McInally at the time. Having signed a pre-contract agreement with promotion chasing St. Johnstone, and with Morton circling the drain at the bottom end of the table, McInally decided to throw the baby out with the bathwater and declared that Chris would never play for Morton again. It's funny how getting hammered 1-6 at Livingston without one of your best players can change a manager's stance on such things. Happily though, in spite of his imminent departure, he did outstay McInally, and played his part as new manager Davie Irons led Morton to safety by the skin of their teeth in that final day nail biter at Firhill.
It was onto pastures new and McDiarmid Park then, and the full set of lower league title medals was completed within twelve months, Saints wrapping up the title with a 3-1 win over Morton on the penultimate day of the season. The next few years were to prove fruitful for the Perth Saints and for Chris, with European football becoming a regular occurrence, and notable scalps of Norwegian powerhouses Rosenborg and Swiss side FC Lucerne standing out. However, the crowning glory of Chris's career was to come a mere fortnight after the worst single match in Morton's history. As we were coming to terms with relegation and that 10-2 mauling at Hamilton, he was an integral part of the St. Johnstone team that took care of a Dundee United team that included the likes of Andy Robertson and Stuart Armstrong to lift the Scottish Cup- the first major trophy in their entire history.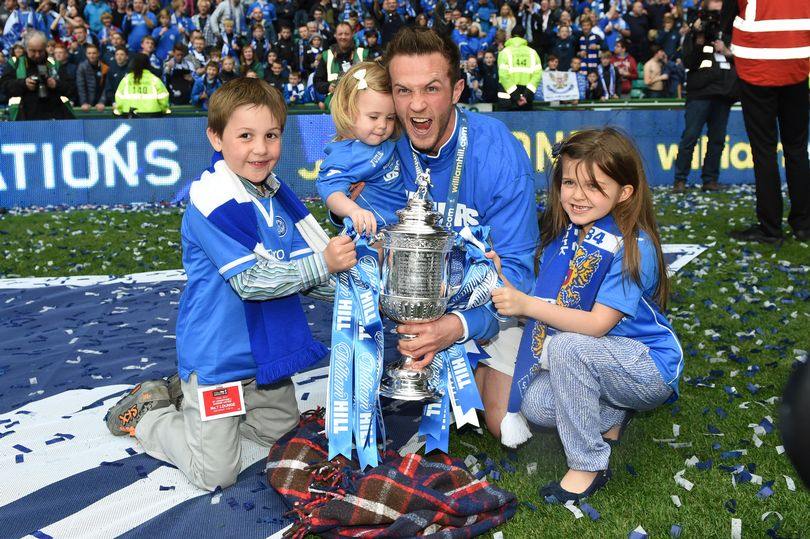 The Millar clan enjoy St. Johnstone's Scottish Cup success in 2014. (Photo- @MidgeyMillar, Twitter)
But after ten years in the small farming community of Perth and a testimonial against Aberdeen, a return to the bright lights was too good an opportunity to resist, and Chris returned to Morton in 2018, signed as part of Raymond McKinnon's revolution. Two goals in a 2-0 win at Alloa were a good starter for ten, but as the season took a turn for the worse, he found himself helping John Sutton with coaching as McKinnon's successor was sourced, and joining Jim McAlister in picking the team for the final day win against Dundee United as Morton signed off a turbulent season as in a manner befitting of the campaign- having a bit of drama and a good laugh at Falkirk's expense.
In truth, the curtailed 2019-20 season, and last season's difficult campaign were not to prove the most glorious of swansongs for Chris, as first team opportunities were to prove limited. That didn't however stop him from stepping up when he was needed most. After starting his Morton career in that away draw at Montrose over eighteen years previously, it was against the same opponents that he finished it. I doubt I've ever missed a game that Chris Millar played for Morton (before COVID hit, at least), but can't remember ever seeing him play at right back. Trailing 1-2 from the first leg, he put in a magnificent performance in his unfamiliar role as Morton scraped through to the final and ultimately survival for another year.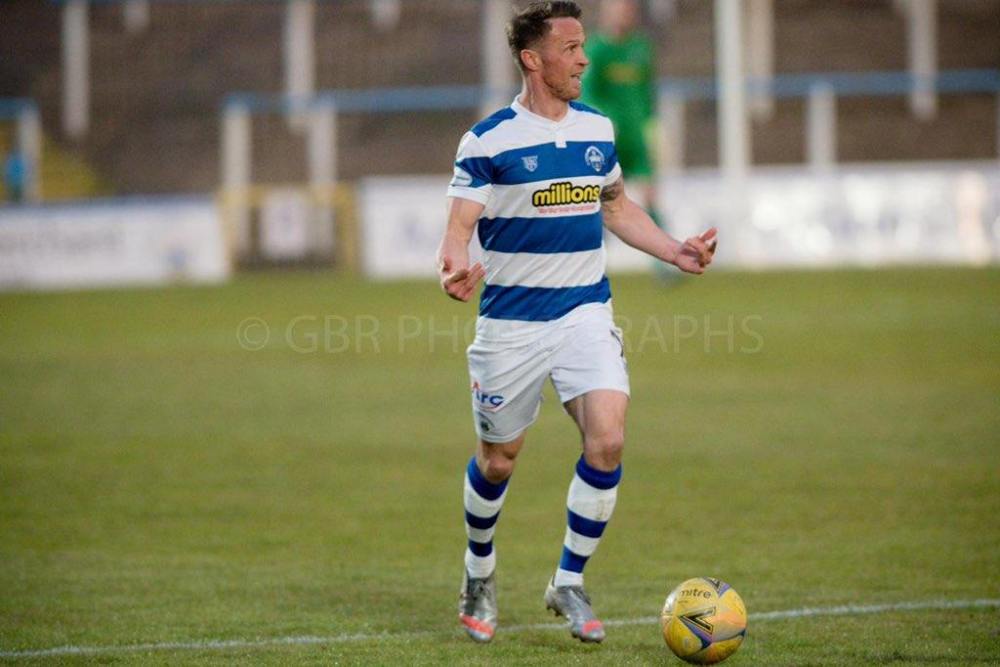 A fine performance at right back in the play-off semi final second leg against Montrose was a fitting send off for Chris.
(Photo- Gary Bradley)
There's something that's quite disappointing about Morton that a player has to depart for another provincial club for ten years to enjoy success that they couldn't realistically expect with ourselves, but there was also a sense of satisfaction to be taken on how Chris closed the book on his Morton career. After 278 games, 39 goals, 5 yellow cards and two league titles, to see him come in from the cold in our hour of need and make such a telling contribution to our survival was great to see.
It's now onwards to East Kilbride- my own local team, where he'll be looking to add a Lowland League title medal and pyramid play-off success to his glittering CV. Given their stance on the colt teams' introduction to the pyramid system, I struggle to wish "Kilby" well in anything they do, but with players of Chris's calibre in their squad, I expect that we'll be congratulating him on yet another piece of silverware sometime soon.
Cheers Chris, it's been a privilege!
10