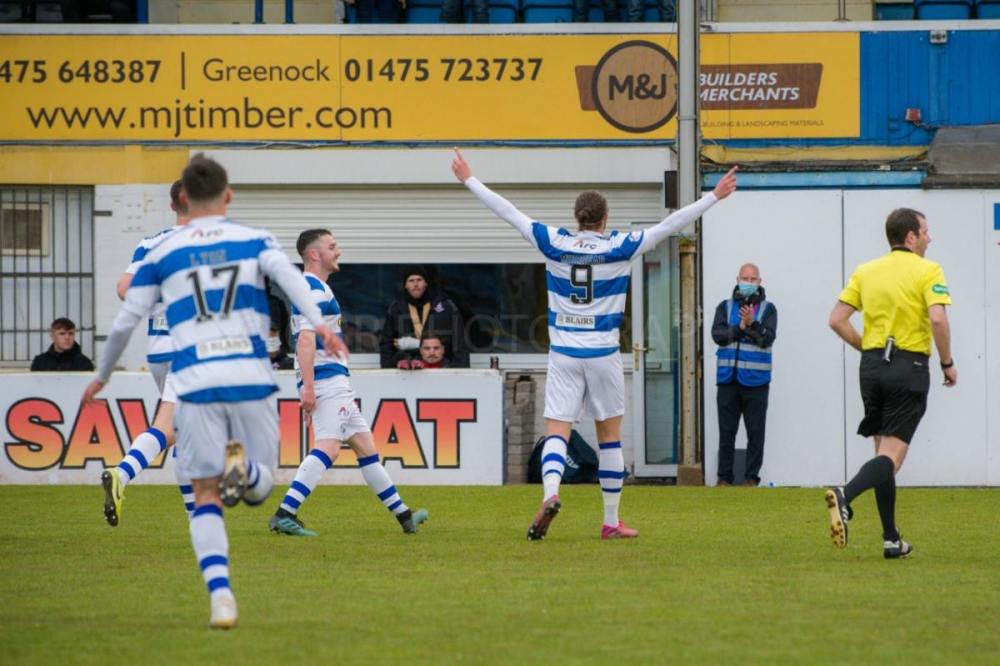 (Photo- Gary Bradley)
A Review of Morton's 2020-21 season, Part Three.
By Russell Gordon.
Montrose away it was then, after it had looked like Morton were going to be forced into renewing hostilities with old pals, Falkirk. On paper an easier tie, but given Falkirk's spectacular (not to mention hilarious) collapse, that possibly wasn't the case. Morton made their second trip in just over a week up to Angus and could have been forgiven for having a bit of trepidation about what lay ahead. With Cove Rangers playing Airdrieonians in the other tie about 40 miles up the road, Morton were seen by the bookies as the favourites to come through the play-offs. You'd have been doing a well to find a Morton fan who shared their optimism, but how often do you see a poor bookmaker?
Things couldn't have got off to a better start- within five minutes of the kick off, Aidan Nesbitt won the ball in the middle of midfield and prodded it forward to Kalvin Orsi, who squared for Gary Oliver to finish at keeper Allan Fleming's near post to give us a lead and settle the nerves. All this panic was much ado about nothing, then.
Not a bit of it. Morton, as had happened so often this season, retreated into their shell and allowed their hosts to impose themselves on the game to such an extent that the half time whistle was a relief when the referee blew. But the relief was to prove short lived, as 12 minutes into the second half, the hosts' pressure finally paid off- and from a defensive point of view it was a howler.  Markus Fjortoft's slip allowed Gable Endies' striker Russell McLean in and the Norwegian was also slow off the mark to close down the big forward after his initial effort was blocked by Brian McLean. The second attempt was curled into the far post past a diving Aidan McAdams to level the scores. And 20 minutes later, Montrose completed the turnaround, as Graham Webster got onto the end of a fine move to give them a lead at the halfway point in the tie. Whilst the performance was atrocious, Morton could take comfort in the narrow deficit going into the second leg at Cappielow three days later.
To say that Gus McPherson shuffled the pack for the second leg would be the understatement of the season, with Chris Millar and the two Cammys- Blues and Salkeld, coming in from the cold for Morton's biggest match of the campaign. The changes were to prove pivotal, with Millar's magnificent performance in an unfamiliar right back position proving a real highlight on a nervy night at Cappielow. But for a while it didn't look like Morton would be in too much bother as they came flying out the traps immediately- again it was a fifth minute strike from Oliver that started us off, levelling the tie and handing Morton the momentum. Salkeld made it two from close range in the twentieth minute and by this point, the Ton could've been forgiven for thinking they were on easy street- but again, Mclean levelled the tie 10 minutes before the break, his strike eventually taking the tie to extra time.
But as the game wore on, and into extra time, Morton's superior fitness began to tell as the part timers visibly tired. The introduction of Luca Colville, Nesbitt and Craig McGuffie gave us a greater attacking impetus as we began to pin Montrose further and further back, with penalties appearing to be their best option. Morton were spared a sixth shoot-out of the season in the nick of time though, and it was due to a piece of
luck
genius from substitute McGuffie. The ex-Ayr winger nutmegged Montrose forward Craig Johnston on the left-hand side and advanced towards goal, but with everyone inside the box expecting a cross, he clipped the ball over 'keeper Fleming's head and into the net at his far post. Oh, to have been in the Cowshed for that moment. Morton were through to the final after a hell of a scare, but there was to be plenty of drama in the other semi-final, too.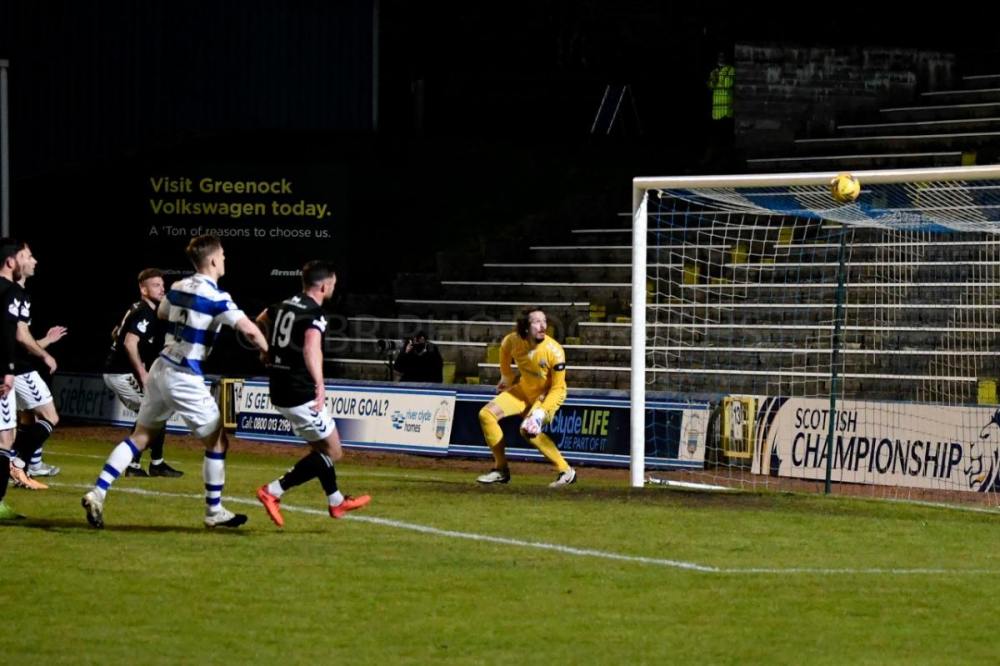 Craig McGuffie's wonder strike sent Morton into the Play-Off Final in the most dramatic of fashions. (Photo- Gary Bradley)
After a 1-1 stalemate in Aberdeen, Cove looked to have advanced to the final when Rory McAllister put the visitors 2-1 up at New Broomfield in the second minute of stoppage time. But Jack McKay took them to extra time a couple of minutes later (more of 94th minute goals in deepest, darkest Monklands to come) to change the course of the tie. Callum Gallagher settled it in the second period of extra time to take the Diamonds into a winner-takes-all double header with Morton. There's always a bit of needle attached to a game with Airdrie of course, but to add to the excitement, after 14 months locked out, both clubs were allowed 500 fans into their home legs.
The scramble began- with around 460 season ticket holders, briefs were to be at a premium for the second leg, with no away fans allowed. Even with so few tickets left on sale though, Morton still managed to throw a couple of administrative errors into the mix, because, well, they're Morton, so where's the fun in doing things properly? The original batch were sold to season ticket holders in spite of not having been printed, and when it came to the public sale of the few leftovers, the advertised time of sale was put back before reverting again to the original time slot after folk who had swapped shifts rightly kicked up a stink. On a positive note though, the club did manage to get permission for another 100 to be seated in the Wee Dublin End.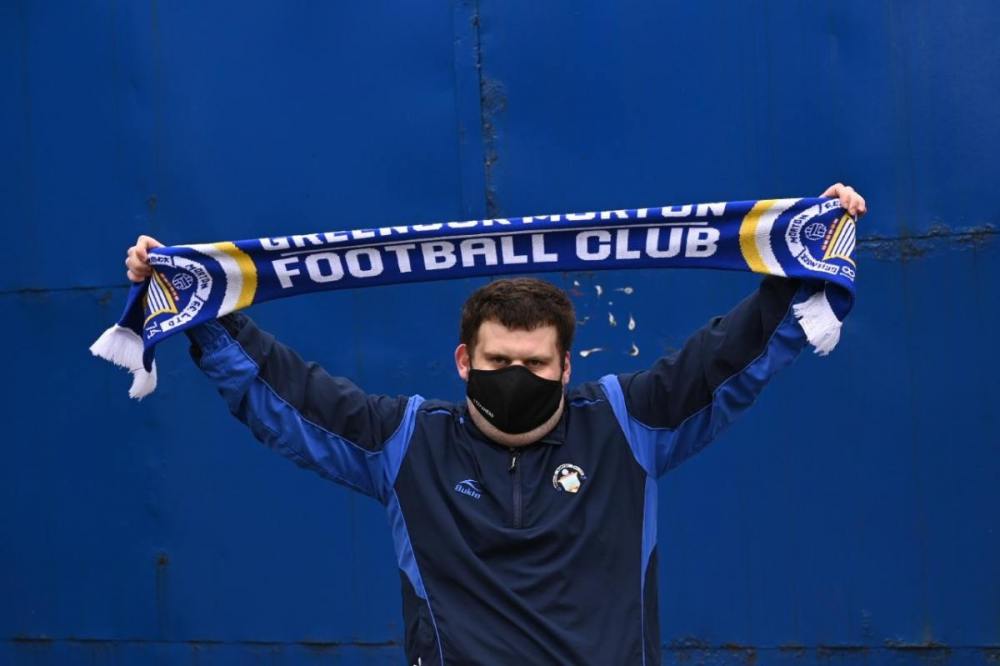 There was to be the return of some well-kent faces as 600 fans were allowed to attend the second leg of the Play-Off Final. (Photo- Gary Bradley)
But the ticket sales were the least of Morton's worries. After not missing a minute of the season, Aidan McAdams finally succumbed to a hamstring injury, ruling him out of both legs of the final. With no fit senior keeper on the books, McPherson turned to Motherwell's Scott Fox, who came in on an emergency loan. To add to those woes, Kyle Jacobs' season came to an end in the first half when he fell awkwardly and had to be replaced by Reece Lyon. Even with these blows though, Airdrie weren't causing any real concerns to Morton, with the best chance of the half falling to Cammy Salkeld, who headed wide from close range. The Diamonds had one chance of note in the second half, McKay volleying wide from a corner. But as the game wore on, Morton began to turn the screw, and again the introduction of Nesbitt saw an added impetus to their play. Lyon was unlucky to strike the inside of Max Currie's post a few minutes from time, but it was deep into injury time that the breakthrough finally arrived. From a needlessly conceded corner, Blues played the ball short to Brain McLean. The captain clipped the ball into the box where Robbie Muirhead took advantage of a lapse in concentration in the home side's camp to give Morton a priceless winner. All of a sudden, after a season from hell, we were ninety minutes away from survival. Lyon might even have made it two before the final whistle were it not for a fine stop from the Airdrie custodian.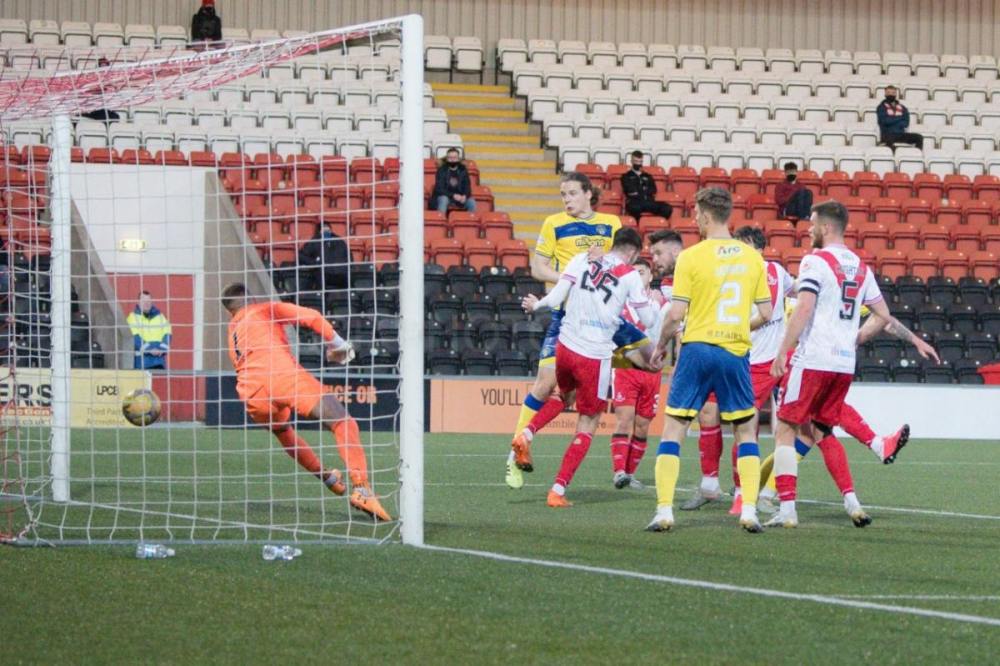 Robbie Muirhead's late winner at Airdire secured a vital lead going into the second leg of the fianl at Cappielow. (Photo- Gary Bradley)
Scottish football's biggest crowd of the season rolled up at Cappielow for the second leg, and whilst that might not quite be as big a boast as it would appear under normal circumstances, the excitement and anticipation was palpable. And what a treat Morton served up. Without having to chase the game, they played with a freedom that had been missing all season, and the tie was effectively over in the twelfth minute. Muirhead added to his first leg goal with a volley that will go down in the memory of a generation of fans the way Ritchie's goal against Aberdeen in 1981 and Templeman's against Kilmarnock in 2007 have. The crowd were in raptures and Morton sought to turn the screw, narrowly failing to increase their lead on a number of occasions before Oliver converted from close range after McGinn's effort had struck Currie's crossbar. There was to be no hiding place for Airdrie as their hopes of a return to the second tier after an eight-year sabbatical were to prove just too much of an ask. Nesbitt should've made it three from close range in the second half before Muirhead did put the cherry on the cake. As the final whistle went, the 600 inside the ground and the boisterous crowd on the car park celebrated like we'd actually won something. For a first trip back to the football in over a year, it couldn't have gone better- Morton were safe, and after a season of catastrophe, shooting themselves in the foot and being treated by our peers as a joke club, we'd come out it at the other end.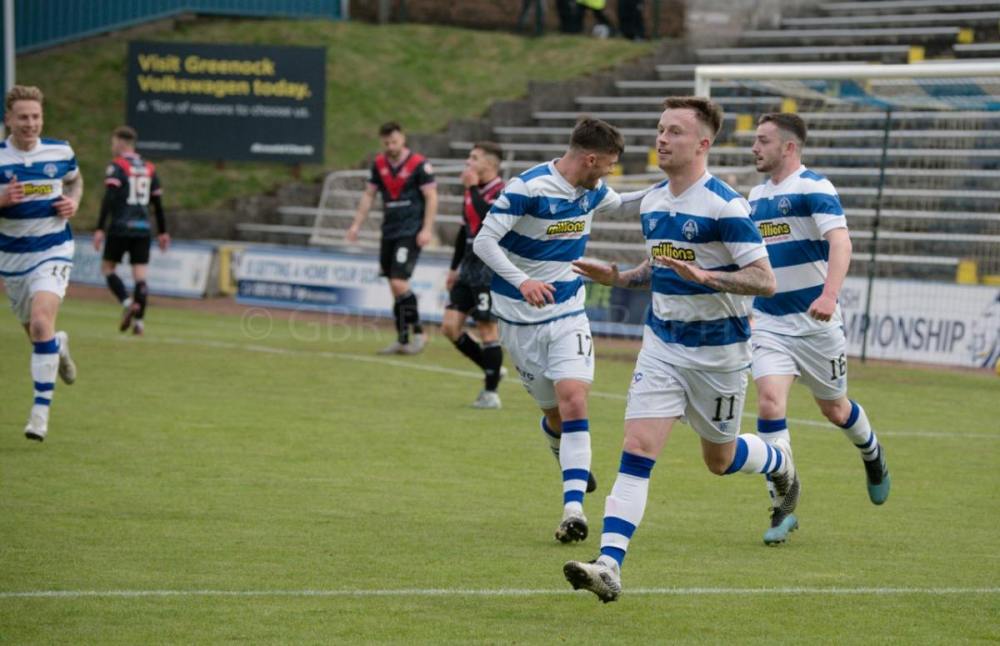 Gary Oliver leads the celebrations after making it 2-0 on the night and 3-0 on aggregate to assure Morton of Championship football for another season. (Photo- Gary Bradley)
But how do we conclude reviewing season 2020-21? Who were the heroes and the villains? Where do we go from here? For such a terrible season to end so spectacularly, we should of course be careful not to think that all is rosy in the world. This was a poorly assembled squad which did just enough to preserve their Championship status, and is already being dismantled by the man who assembled it, as he looks to get the gang back together down the coast. Gus McPherson staying on for another two years hasn't exactly got the juices flowing for everyone, but looking at the list of his most recent predecessors, I wouldn't be too upset about his appointment. There can surely be no complaints about the re-signing of Kyle Jacobs, who all the rumour-mongers had going to slum it in League One with Nesbitt at Falkirk; and McLean, who, in spite of his advancing years, had a good season for Morton last term.
Credit has to go to the players for pulling Morton through what was an extremely difficult season though- a squad that was hamstrung every step of the way by a disinterested chairman, s
elf-absorbed manager who made an absolute mess of his recruitment and a Chief Executive who couldn't organise a menage. Many of them were extremely limited, shouldn't have and won't ever play at such a high level again. Some of course, deserve more credit than others- when losing your captain for the play-offs is seen as a boost it tells you all you need to know about said captain.
Not appointing a manager for three months and allowing McAlister to leave mid-contract were scandalous decisions, and indicative of just how little regard the chairman had for the club as we started to circle the drain. A more cynical man than myself might suggest that they were acts that looked to sa
botage the club's Championship status. I'd prefer to consider them as mere a stupidity, based on a complacency in the boardroom as the arrivals of Messrs
 McPherson, Millen and McGinn sought to redress that initital folly, and eventually saved our bacon. A special mention has to go to Anton McElhone, who in spite of not being a qualified manager, and having no interest in being one, took the reins through that very difficult period and actually had the best record across regular league games of the three who took charge. Lang may yer lum reek, Anton!
What is absolutely certain is that money is sure to be tight this year as well, so the same mistakes as last term cannot be made this time around. MCT have had a couple of directors in the inner sanctum of Cappielow for a while now- here's hoping they've taken onboard how not to run a football club.
10