Departures, Defeats, Draws and Dismissals.
---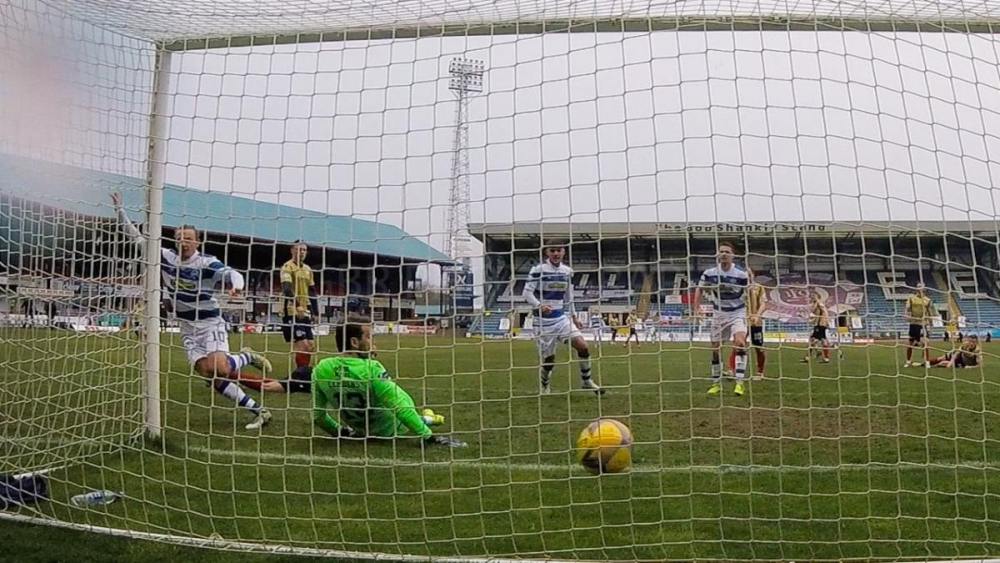 (Photo- Gary Bradley)
Departures, Defeats, Draws and Dismissals.
A Review of Morton's 2020-21 Season, Part Two.
By Russell Gordon
As 2020 came to an end and 2021 began, Morton could actually look forward to the new year with a degree of optimism, in spite of all the uncertainty in the background. Sitting in a comfortable position in the table, and with a fixture list that looked quite favourable, even the most pessimistic of observers would've looked upon the month of January as an opportunity to create a bit of a gap between ourselves and the league's bottom feeders. It was struggling Alloa who we were to first foot on the 2nd of the month. Markus Fjortoft's first senior goal of his career- a near post header from a corner, looked to have secured the three points, but Robert Thomson came back to haunt his old employers with a late equaliser. It was most definitely a case of two points dropped. With all football out with the Premiership and Championship closed down by the Scottish Government due to the second wave of the pandemic, the cup tie against Dunfermline fell foul of the restrictions. But the Pars were due to visit on league business that same week, and in front of the BBC Scotland cameras. It would be fair to say there couldn't have been many outside the fans of the two clubs who managed to sit through the entirety of that turgid 0-0 draw on a glue pot pitch in what must've been Auntie's worst possible advert for their Championship coverage.
With four points dropped that would've been more than useful, a trip to Palmerston all of a sudden held a bit more to fear than the home fixture against the same, but now resurgent opponents a month previous had. And justifiably so. First half goals from Ayo Obileye and Aidan Fitzpatrick, who waltzed through the Morton defence unchallenged to score, gave Queens a healthy lead before Kalvin Orsi halved the deficit in the second half. A horror late miss from Aidan Nesbitt was to prove crucial as Morton dropped more points.
In midweek, Inverness came calling for the re-arranged Boxing Day fixture, and an improved performance saw ten-man Morton take and early lead before clawing back from 1-2 down through Cammy Blues' late equaliser after Rabin Omar's second yellow saw the Ton play for over an hour with ten men. But the next day, the drama really began to unfold as the second high profile resignation of the season saw CEO Dave MacKinnon walk, to the dismay of absolutely nobody. In spite of a £500,000 government grant to all Championship clubs, Crawford Rae had indicated that he wanted to see the wage bill cut in the January transfer window, and with the departure of Hopkin, loanees McPake and McIver, and now the club's CEO, he certainly got his wish. But there was more to come. Club captain Jim McAlister indicated that his time was up and the final match of his career would be the following Saturday against Arbroath as he had attained long term employment that would be more beneficial to him at such a stage of his career.

Jim McAlister brought the curtain down on his playing career in the 0-1 defeat to Arbroath at Cappielow in January.
(Photo- Gary Bradley)
With his final appearance on the 31st of the month, just as the transfer window was closing, and without one signing in the door, Morton hosted Arbroath in another crucial game against a team in and around us, but enjoying a more fruitful run of form. To make the 0-1 defeat even more galling, with our deplorable record in front of goal, the scorer of Arbroath's winner at Cappielow was Livingston loanee Jack Hamilton, who would've been exactly what we could've done with. All of a sudden, Morton were in a relegation battle, and in it deep. Without a manager and without their club captain, who it turned out had taken a job as a kitman at Rangers. It was telling that the Chairman was prepared to allow his captain and most experienced player to walk in order to save a few quid, with scant regard for whether his departure endangered Morton's Championship status.
As the transfer window closed however, Morton belatedly sprang into action and picked up a couple of frees in Justin Johnson, an ex-Hamilton winger whose contribution to the club was to prove so insignificant that I'm not even sure if he was still on the payroll by the season's end. He was joined by goalkeeper Jamie Butler, who contributed slightly more than Johnson. When I say slightly more, he's been injured since day one but has been seen cutting about the bench and was apparently involved in a bit of coaching. But the club whetted our appetites by hinting that they'd be bringing in a Champions League striker. Alas, Robert Lewandowski was too busy trying to break Gerd Muller's longstanding Bundesliga record, but Spurs striker Kaziah Sterling had been punted by Southend after doing nothing on loan at Roots Hall in the first half of the season, and he had made a 2-minute cameo appearance for Tottenham against APOEL three years previous.
He was to debut from the bench in another insipid home defeat, this time by promotion chasing Raith Rovers as the winter of discontent plumbed new depths. With a first visit in a generation to Tynecastle looming, there weren't many grounds for optimism at all. But lo and behold, Morton rocked up in the capital and gave the league leaders an almighty scare, and it took a Jamie Walker header to spare the home side's blushes and rescue a point after Craig McGuffie's fine strike had given Morton a shock lead. McGuffie was to produce another howitzer the following week as we again picked up a point against promotion hopefuls, this time Dundee. But it felt more like two dropped rather than a point gained as the Tayside club twice hit back to nick a point. So, things were looking up, and a struggling Ayr side came calling for what was at this stage the biggest game of the season. What happened? Yes, Morton were rancid and lost 0-2, making it now 10 games without a win.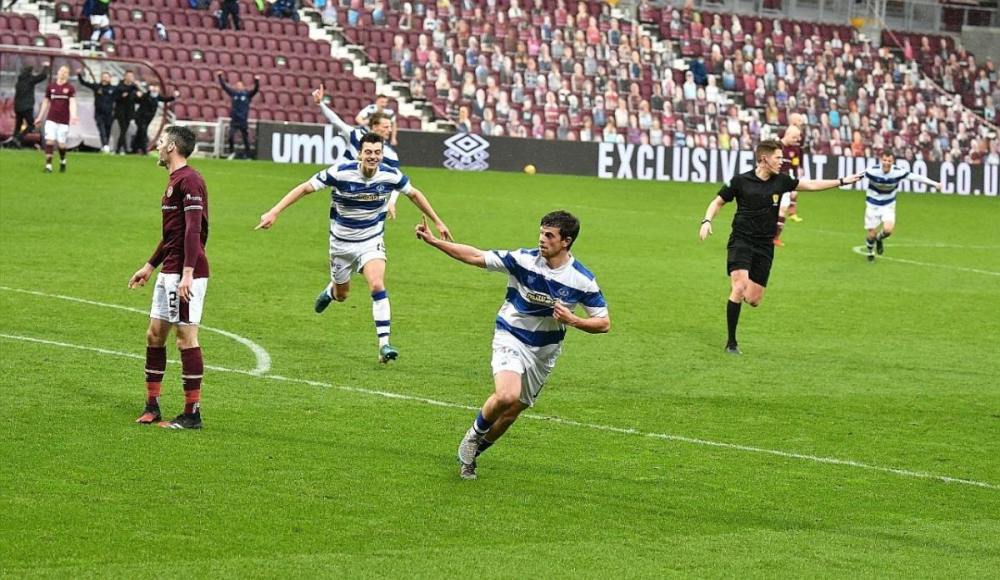 Craig McGuffie celebrates giving The Ton a shock lead at Tynecastle. (Photo- Gary Bradley)
So, a midweek trip to the Highlands for a re-arranged game wasn't one that many of us would've expected to yield too many points, but Morton burst a few coupons and came back down the road with three precious points, Aidan Nesbitt the hero with a fine second half strike. But it was to be the last match of Anton McElhone's tenure as Crawford Rae all of a sudden decided that after three months it was time to appoint a manager. Ex-Queen's Park and Queen of the South boss Gus McPherson came in, assisted by ex-Morton "favourite" Andy Millen. With fellow strugglers Ayr replacing Mark Kerr with Hopkin, many suspecting that Rae's hand was perhaps forced by Hopkin's intentions to be reunited with his former assistant, but that turned out not to be the case.
A narrow defeat at East End Park was followed up by an encouraging home win over Queens, Aidan Nesbitt bizarrely netting directly from an out-swinging corner and Gary Oliver finishing the job as McPherson debuted former Sheffield United midfielder Stephen McGinn, who had come in on loan from Hibs.
With restrictions easing, the lower leagues were allowed to resume, and along with it the Scottish Cup, which actually gave Morton fans a wee bit of pleasure. When Dunfermline eventually visited on cup duty, the game was to prove similar to the earlier Cappielow draw, before the Pars took their regular place back on our mantelpiece as Aidan McAdams celebrated his birthday in style, proving the hero as Morton won their first penalty shoot-out of the season at the fourth attempt. Happy days.
After disposing of one Fife club, it was two road trips to the kingdom to follow- firstly to Kirkcaldy for a narrow defeat as James Gullan's late goal saw Raith complete a league whitewash on the Ton, and secondly to Methil in the next round of the cup. A quite dreadful performance saw Morton trail as the final whistle approached, but they were to get off the hook as a late, late Sean McGinty penalty forced extra time before Robbie Muirhead's extra time strike took us into a last sixteen tie at Fir Park.
We were coming into the run in now, and every point would be a prisoner. So a midweek home hammering by Inverness, not out the woods themselves yet by this stage, was to prove most unwelcome. Morton were hosed 1-4, and to be honest, the result flattered us. But as was so often the case, an improved performance and a surprise point at Dens brought little cheer, but some scope for optimism. It took until late on for Dundee to rescue a point after Nesbitt had given Morton a shock lead in what was to prove Sterling's last appearance before he was told to pack his bags. If only we could've turned some of those single points over the course of the season into three, there would've been little to worry about.
Again, Morton would excel themselves on the road as they travelled to Motherwell in the cup, holding the Premiership side comfortably for two hours before heartbreakingly, Scotland right back Stephen O'Donnell struck to settle the tie. Or so he thought, as Morton had other ideas. Substitute Lewis McGratten won a corner as the Ton made one last throw of the dice and Fjortoft dramatically headed home to take us to yet another penalty competition. Sadly, our luck was to desert us as Sean McGinty's tame penalty was smothered by Liam Kelly in an otherwise flawless shoot-out, and the Steelmen prevailed.

Markus Fjortoft's late equaliser at Fir Park took Premiership Motherwell to penalties as Morton were unfortunate to bow out the Scottish Cup.
(Photo- Gary Bradley)
With champions Hearts visiting in midweek though, the performance was a good confidence boost to take into a game that was a bit of a free hit. Anything we could get was a bonus, and a point apiece it was, but it probably should've been more against a side that were half way to Magaluf by this stage of the season. Well, maybe not this year, but you catch the drift. Orsi hit the post in the first minute and Craig Gordon was to prove the difference between one point and three. Not to worry though- we had Alloa, already relegated, to come at Cappielow at the weekend.
It was again a first minute chance for Orsi that was to prove the pivotal moment, as this time he collapsed on the ball when through on goal. Things didn't get any better as Morton huffed and puffed before falling behind to an Innes Cameron goal early in the second half. Again, it was Fjortoft who restored parity but a winning goal didn't arrive and we were up against it as we headed into a final day winner-takes-all decider against Arbroath at Gayfield.
Off the park at least, things were looking up as MCT asked their members to approve a takeover proposal that involved the retention of the ground as the club's asset and the debt being expunged, whilst Golden Casket retained the car park. The proposal was approved almost unanimously and it's looking like Morton can look forward to a fan-owned future. But in what division?
With Morton level on points with Ayr but with an inferior goal difference and a point behind the Red Lichties, we had to better Ayr's result or win the game to finish above Arbroath. What followed was an insipid draw in which Morton didn't get a shot on target, and didn't really threaten. With around 50 fans travelling to support the team in spite of having no chance of seeing the game, they were let down not only by the poor performance, but by the sheer folly of new club captain Sean McGinty. As news of what was to prove Ayr's crucial equaliser came from the bench, McGinty had a rush of blood to the head and his inexplicably late tackle on Abroath's Scott Stewart earned him a red card which ruled him out of the play-off semi-finals in the process. Having had the opportunity to meet the manager outside Gayfield that evening, I can testify that McPherson shared the fury of myself and the fans around me as we faced up to visiting the Last Chance Saloon.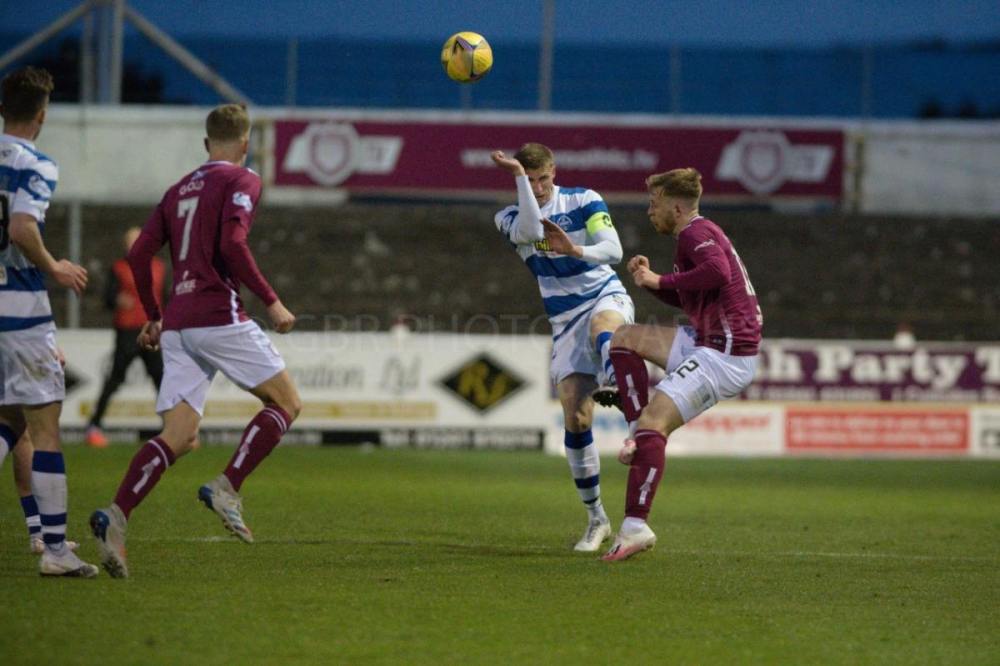 Captain Calamity Sean McGinty's horror tackle led to his red card and subsequent suspension for the play-offs which ultimately proved to be a blessing in disguise for Morton. (Photo- Gary Bradley)
But there was to be one final twist before we faced up to our date with destiny. Any observers that are ignorant to the trials and tribulations of our club who stumbles across my musings could be forgiven for thinking that we're by far the biggest shambles of a club in the land, but it's always nice to know there's someone worse off than yourself. Especially when that someone is Falkirk. The Bairns had suffered an incredible collapse from the position of coasting towards the title to missing out on even making the play-offs in the final few minutes of the regular season, as Montrose's late winner against already promoted Partick Thistle, coincided with a couple of late Airdrie goals against Falkirk, propelled the Angus club into a play-off semi-final with Morton and left the greeting-faced Grangemouth Galoots licking their wounds, crying about the injustice of it all and slumming it in the third tier for another season.
For Morton, it was another trip up the east coast.
8