Storm Clouds Are Gathering...
---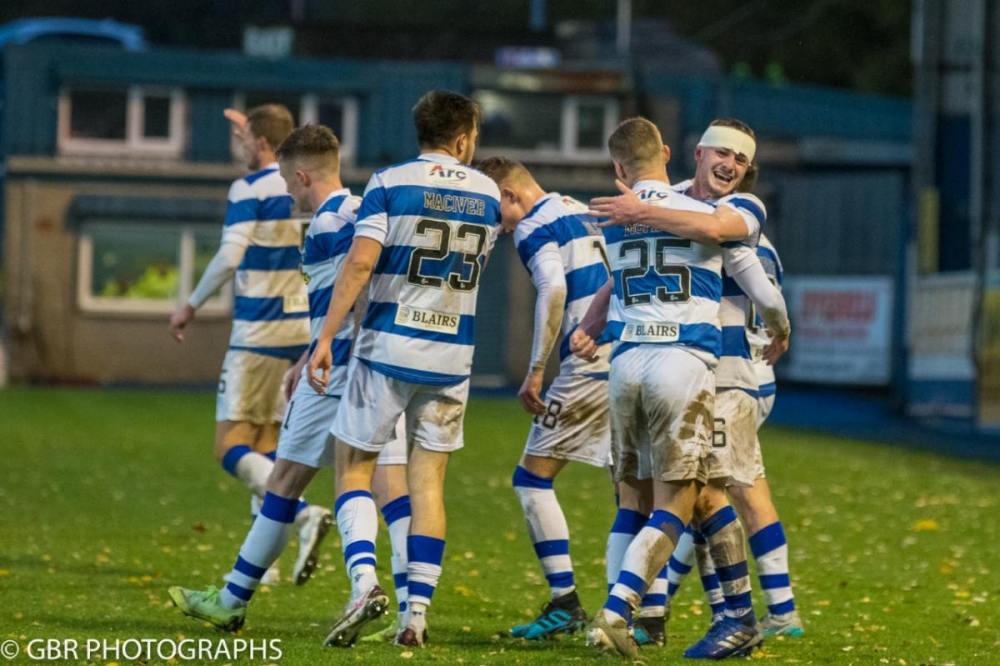 (Photo- Gary Bradley)
Storm Clouds are Gathering...
A Review of Morton's 2020-21 Season, Part One.
By Russell Gordon
Well, that's it finished, then. Another season of struggle and a seventh consecutive season in the Championship awaits for Morton. When we look back in years to come, we'll see a ninth placed finish and a comfortable play off campaign that secured our Championship status with the minimum of fuss. But boy, that doesn't even scratch the surface of one of the most eventful and downright catastrophic seasons in the history of a club that does eventful and catastrophic like few others.
We all know the backdrop- the planet was ravaged by COVID and football was no different- with last season abruptly and prematurely ended by the pandemic, we faced uncertainty over whether we'd see a ball kicked in 2020-21 right through the summer. Many of Morton's peers took the shut down as an opportunity to make the most of social media to promote themselves, seek new forms of sponsorship, get the begging bowl out and pull on the heart strings of their local communities. Raith Rovers and Dunfermline did extremely well in this regard and Arbroath's brick selling campaign worked a treat for them. Morton chairman Crawford Rae took a different approach. Everyone within the club apart from erstwhile CEO Dave MacKinnon was put on the government's furlough scheme and the club effectively ceased operating for the duration of the summer months. Poverty was pleaded, and "we're in the middle of a pandemic" was the answer to all the fans' concerns.
That's not to say Morton did nothing right over the summer- they did vote to retain the current league structure instead of meddling with it in order to protect Hearts, Partick Thistle and Stranraer, who saw the early end to the season as the perfect opportunity to spare themselves the ignominy and financial impact of what would've been inevitable relegations, given their form at the time of the season's curtailment.
The SPFL pencilled in an October start, and a 27 game league campaign, with everyone facing up three times instead of the usual four. Given Morton's approach to the season, a struggle in the bottom half of the table was always on the cards, but boss David Hopkin eventually made moves to assemble a squad that he hoped would be able to do enough to survive but do little else in the division. As is always the case, some moved onto pastures new, with star man from the previous campaign Nicky Cadden, moving south to English League Two side Forest Green Rovers, where he would enjoy a fruitful season helping them into the play-offs before falling short in a dramatic semi-final against Newport. Perhaps most grating to the support was the loss of Reghan Tumilty to Raith Rovers. Whilst Tumilty had been sent to the purgatory of a loan spell at Dumbarton, he came back looking a more than accomplished attacking full back who could have a lot to offer. Morton however, couldn't, or didn't, offer him the terms or the length of contract that the more proactive Fifers did. Amazing what not sitting on your hands in a time of crisis does for you, eh? It would also be remiss of me not to note that our main source of goals over the previous couple of seasons, Bob McHugh, choosing to drop down to League Two, working under the man who so memorably took Falkirk down to League One, Raymond McKinnon (sorry, that couldn't go without a mention) was an indication of how attractive a proposition playing for Morton is in the current climate.
The first two in the door were Rabin Omar of Elgin City, making the step up to full time football after a relatively successful period in League Two with the Highlanders and previously Annan, and the returning Gary Oliver, charged with the unenviable task of trying to fire in enough goals to keep our heads above water. Others soon followed, with the signing of some unfamiliar faces such as Ross County's James Wallace, who had impressed for Brora Rangers against the Ton in the cup the previous season, Sunderland defender Michael Ledger and former Celtic and Rangers youth keeper Aidan McAdams, who, with extremely limited first team experience was brought in as Morton's only senior goalkeeper. Hopkin did use the loan market to supplement his squad, with promising Rangers youth Josh McPake coming in alongside Motherwell striker Ross McIver. Centre back Markus Fjortoft from Hamilton was perhaps the highest profile signing, but that profile owed more to his famous father's stellar career in the English Premier League than to Fjortoft himself. He did however prove to be one of the relative success stories of the season, along with Ledger and McAdams.
So, with a period without fans being allowed inside football grounds the world over ahead, clubs were hit with the dilemma of how to bridge the financial gap that this would clearly entail and the obvious solution for clubs in Scotland was to provide online streaming services, and Morton were no different. Except, they were a bit different. Different in that they just didn't heed any of the warnings that the fans gave them about their website's capacity and ability to cope with such traffic on a matchday. First of all, a commentary team were put in place, and who better than Morton legend and patter merchant extraordinaire Andy Ritchie and, err... local Celtic fan Gerry McDade?
In fairness, the double act worked very well, with McDade providing a competent and fairly balanced commentary that was, whilst perhaps not lauded by fans of other clubs in the ultra-partisan world of Scottish football, was at least accepted as one of the better club productions. Ritchie would provide an informed analysis along with him, which was sprinkled with a bit of humour, allowing us to raise the odd smile through this most tortuous of campaigns.
The stream itself debuted in our opening League Cup Group stage game, against familiar foes Queen of the South. The Ton had been placed in perhaps the toughest of groups, with the Doonhamers, local rivals St. Mirren, relegated Partick Thistle and the monied Queen's Park, providing plenty of grudge games given Partick's misplaced sense of injustice and Raymond's latest return visit to Cappielow. It was an inauspicious start on a couple of fronts though, with the stream, some might say predictably crashing before being transferred over to YouTube, and all those who stumped up being refunded for the inconvenience whilst the team were twice clawed back from a winning position to lose on penalties to a club we felt would be struggling alongside, if not below us in the league. There was however some cheer in the following fixture when Queen's Park came calling and a second half goal from Cameron Blues sent Raymond heading back down the road with his tail firmly between his legs. Again.
And onwards it was to the league campaign, with Alloa the first visitors to the tail o' the bank and Morton enjoying a successful start that wasn't without it's scares. Cammy Salkeld's early goal was enough to separate the teams, but the Wasps could feel aggrieved not to at least have gotten a penalty, and may have felt worthy of a point from a match in which Josh McPake starred but was needlessly sent off for a couple of daft bookings. The Ton's first away trip was to Dens Park, where they fell to an early Jonathan Afolabi goal. Robbie Muirhead incurred the wrath of a number of those watching from home when he was stupidly sent off for two bookings- the second of which being for sarcastically applauding the referee as he issued his first. This prompted Hopkin to go on the offensive with the support, who he felt had gone way over the top with their criticisms, or in his view, abuse of Muirhead. The first signs of a fractious relationship between the club and support were to prove brief however, as October came to a close with the most entertaining match of the season. Ayr United came calling and, inspired by Cammy Smith, stormed into a two goal lead in spite of Morton's one man advantage after Aaron Muirhead did Aaron Muirhead things and was sent packing for scything down Aidan Nesbitt on the touchline. Morton were to stage a dramatic late comeback- Oliver calmly netting with seven minutes to go after Strapp's long ball into the danger zone caused chaos in the previously impregnable Ayr defence. Again, it was a long diagonal a couple of minutes later that led to Cammy Blues' equaliser as Ayr completely lost the plot and the same tactic worked a treat a further three minutes on, Lewis Strapp sealing the most dramatic of wins with a diving header which, had we been allowed inside, would have had Cappielow in raptures. All was well in the world.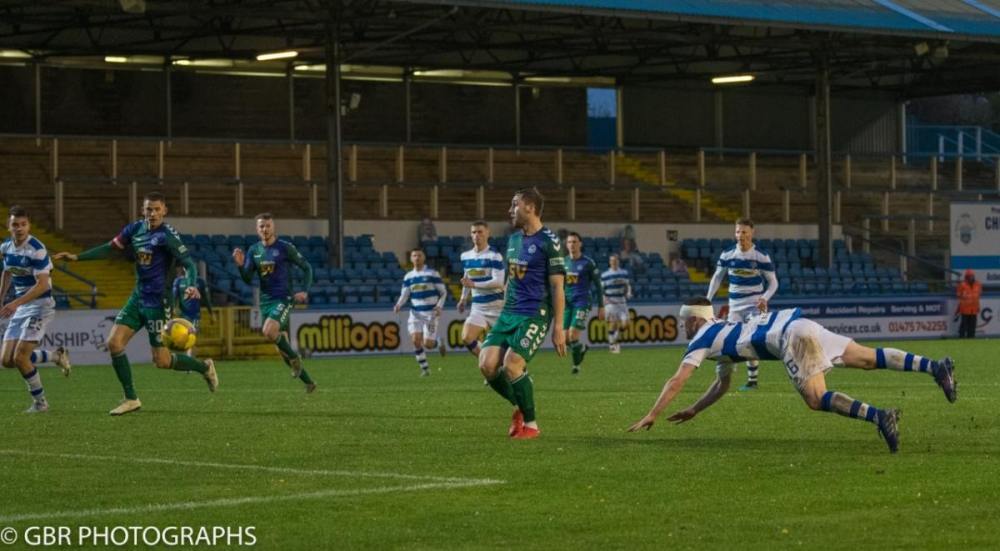 Lewis Stapp heads home Morton's dramatic late winner against Ayr. (Photo- Gary Bradley)
But Morton being Morton, brought us back down to earth with an incredible bump. A visit to Kirkcaldy never seems to bring much joy, and with Raith enjoying a fine start to the season on their return to the division, they dished out a 5-0 hammering to the Ton in what was to prove our heaviest defeat of the campaign. It was Jim McAlister's turn to see red this time, but with the score line sitting at 2-0 at the time, the damage had already been done before the captain walked. The league campaign would take a back seat for a fortnight as international football took centre stage, but before that wonderful night in Belgrade that brought so much joy to the nation, there was the small matter for Morton of a Renfrewshire Derby at New St. Mirren Park in front of the cameras to negotiate, as our League Cup Group Stage campaign resumed. St. Mirren weren't without their own problems at the time, with COVID ravaging their squad and the SPFL hammering them for their own part in their internal outbreak, somewhat unjustly in my eyes. That's the last you'll hear anything sympathetic from me towards them though. Minus their suspended skipper, Morton set up defensively but St. Mirren took until 5 minutes before half time to open the scoring, a Jonathan Obika header finally breaking down our resistance, and a home win looked to be on the cards from there. But a completely different Morton side reappeared for the second half, with the introduction of Kyle Jacobs in midfield allowing us to get more of a grip on the game, and another substitution, that of Ross McIver on the hour, proving crucial. The on-loan Motherwell man netted within seconds of his introduction to secure a draw and head us towards another penalty shoot-out, in which the Saints prevailed en route to a semi-final defeat by Livingston. In a week of penalty shoot-outs, you'd perhaps have accepted Morton's misfortune just this once to see Scotland qualifying so dramatically out in Serbia, but the third penalty competition of the week followed a 0-0 draw in the final group stage game, by now effectively a dead rubber at Firhill. Morton lost their third penalty competition of the season.
And so, it was back to league business, and a truly turgid 0-0 draw with Arbroath. Hopkin's negative tactics had been drawing widespread criticism from the club's fans but on this occasion, it was one of his peers, the Red Lichties' gaffer, Dick Campbell who was scathing in his assessment of how Hopkin had set up to stifle the game, and made very little attempt to win it. As the festive period approached, we welcomed Hearts to Cappielow for the first time in 33 years, and to be honest, there was no chance of Morton ever getting anything from the fixture. Two Jamie Walker goals either side of the break gave Hearts a win that would've been far more convincing had it not been for the performance of Ton custodian Aidan McAdams.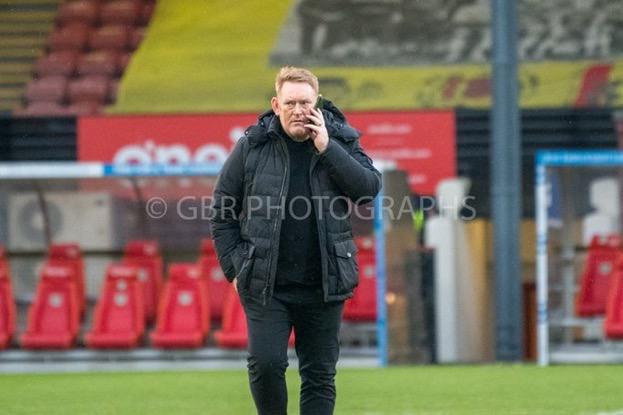 Former Morton Manager, David Hopkin (Photo- Gary Bradley)
There were no great surprises in losing to the Jambos, but a few days later, Cappielow was plunged into chaos as David Hopkin handed in his resignation as first team manager. This was portrayed by the club as a selfless act in order to protect the club in a period of uncertainty, but fooled nobody. Hopkin's incredibly unbalanced squad building, which by this point in the season still left us without a reserve goalkeeper, had come back to bite him. By all accounts, it appeared he had asked for more money to bring in a reserve keeper and been refused, before spitting the dummy and resigning in a fit of rage. It's difficult to pinpoint who is exactly responsible for this ridiculous situation arising, but the board placed their trust in the manager to work with a budget and he made a mess of it. Perhaps they should've been questioning the assembly of said squad, but ultimately the manager has to carry the can for such a shambles. Had they interfered, he would've had every right to point out that assembling the squad and picking the team was his responsibility. That it was, and as a result, his departure was mourned by very few. Hopkin had arrived with great fanfare, and as a Morton fan who had previously managed to bring success to a financially stricken Livingston, appeared the perfect fit to do likewise at his local team. It never happened though, and with the number of rumours of unrest in the background, and subsequent dirty laundry being aired in public, Hopkin's departure was probably good news for all concerned.
There was to be no swift replacement, however. Assistant Manager Anton McElhone took the reins, with the help of senior players Jim McAlister, Chris Millar and Brian McLean. His tenure was to get off to an unexpectedly fantastic start. Under the backdrop of a takeover announcement from fans' group Morton Club Together, it was back to Fife for Morton, just over a month after their 0-5 trousering by Raith, and a completely unexpected 2-1 victory against a Dunfermline side that had recently defeated champions-elect Hearts and appeared nailed on for a play-off place. McAlister's final goal for Morton (more of that one later) and a Craig McGuffie strike sealed the three points in a game in which Morton also had a Kalvin Orsi goal controversially ruled out after it had clearly crossed the line, minutes before Declan McManus equalised from the spot for the Pars. Orsi was to prove the hero the following week, with a brace in a 2-0 home win over Queen of the South as Morton incredibly climbed to third in the table. With such momentum, it was perhaps a shame that the Boxing Day fixture with Inverness fell foul of the weather, and Morton brought 2020 to a close with a 1-1 draw at Somerset Park, which probably should've yielded three points. Aidan McAdams' uncharacteristic error allowed Luke McCowan to equalise after Nesbitt had converted from the spot to give us a first half lead.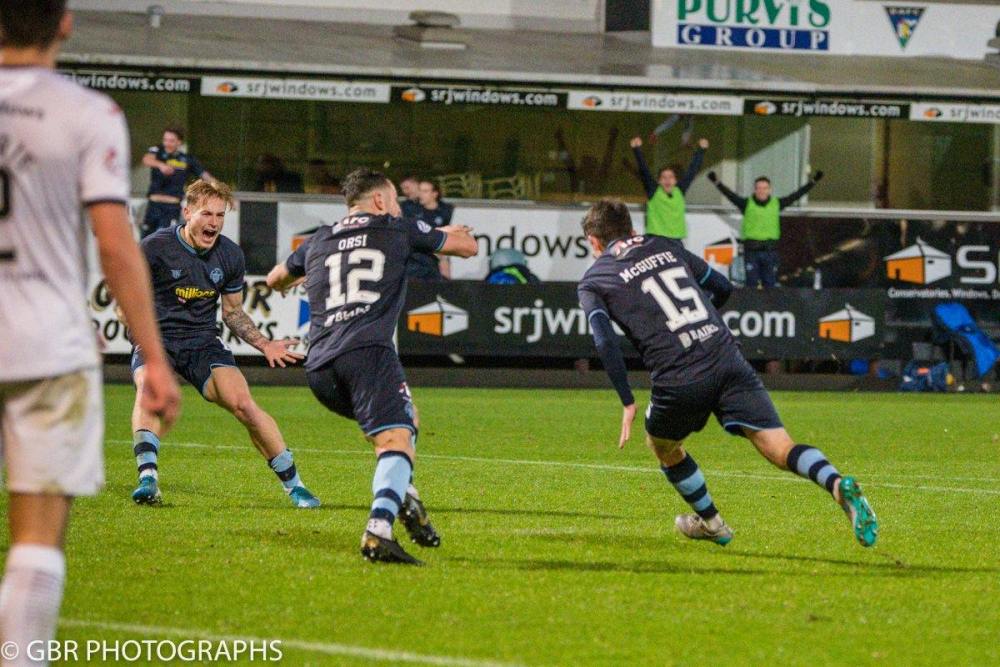 Cammy Salkeld and Kalvin Orsi hail Craig McGuffie's late winner at East End Park. (Photo- Gary Bradley)
But a winter of severe discontent on and off the park was to follow. The terms of the takeover irked a large section of the support- specifically Crawford Rae's intention to retain ownership of Cappielow and the car park for his family and to charge a peppercorn rent. It raised comparisons between Rae and previous owner Hugh Scott and made the chairman public enemy number one in the eyes of the rank-and-file. The proposal also raised questions about the competence of MCT, who appeared far too content to just accept the first proposal Rae gave them in order to get their feet under the proverbial desk without offending the chairman.
As 2020 ended and 2021 began, there were a lot of questions on the lips of Morton fans, and not very many answers coming from the powers that be...
1

7