1922 And All That.... Morton's Finest Hour And A Half.
---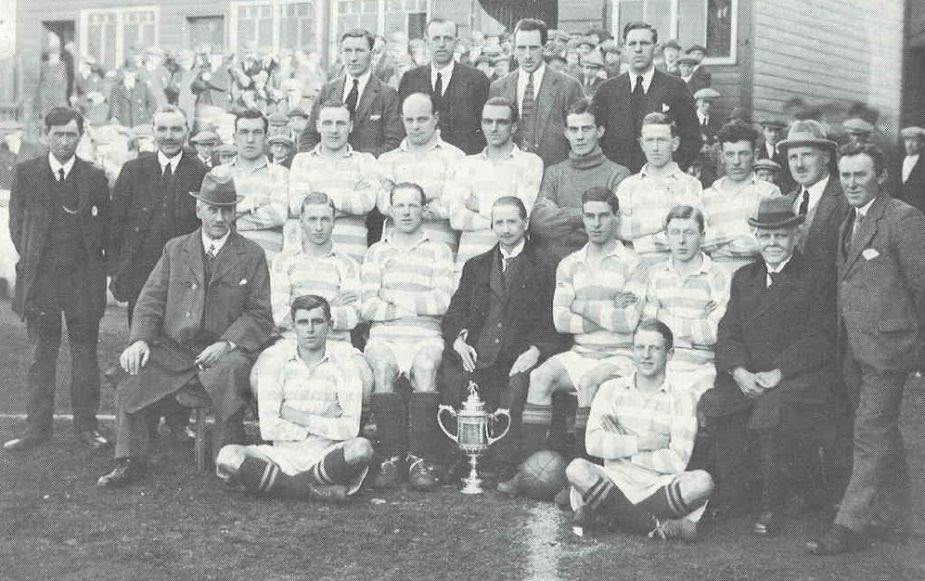 (Photo-gmfc.net)
1922 And All That- Morton's Finest Hour And A Half
By Russell Gordon
One hundred years to the day. A lot has happened since- we've had another World War, the creation of the BBC and the NHS, the reconvening of a Scottish Parliament, the fall of the Berlin Wall and the collapse of the Soviet Union, the formation of the EU and Britain's decision to join and its decision to leave, not to mention the death of our opponents from that famous day amongst many other changes. In football, the World Cup was yet to see the light of day, and European competition hadn't even been thought of.
What isn't terribly well known is that seven years previously in 1915, Morton had in fact won the War Shield- an equivalent knock-out tournament that was arranged as the Scottish Cup went into an abyss throughout the First World War. Stanley Seymour notched the winner against Rangers in a 2-1 victory as Morton took home the Shield. I can't find any reports from the final itself but assume Rangers' goal was a penalty.
But it wasn't until the 1919-20 season that the Scottish Cup was again competed for, after being shelved for five years. Successes for Kilmarnock (having trailed Morton 2-0 in the Semi Final and beaten Albion Rovers in the Final) in 1920 and for Partick Thistle in '21 must've drawn envious glances from Greenock, but Morton's day was to come in 1922.
The club was enduring a stop-start season, with their home form in the league greatly contrasting their form on the road. Morton had suffered only two defeats at Cappielow- a 1-2 loss to eventual cup final victims Rangers in November and a 0-3 capitulation to Clyde in January.
There were some notable league wins; 2-1 against Aberdeen, and 5-1 and 4-0 pastings of the previous two seasons' cup winners; Kilmarnock and Partick, respectively.
They failed however, to win away from home until defeating Albion Rovers 2-1 at Cliftonhill on the 3rd of January- the day after that 0-3 home defeat by Clyde! Whilst the away form was disappointing, the greatest indicator of this inconsistent form perhaps came a week after Morton's demolition of Killie in December as, a week later they travelled to Falkirk (remember them?) and were hammered 0-7. Merry Christmas. On a more positive note, Morton got the upper hand across the two Renfrewshire derbies, winning 2-1 at Cappielow and collecting a point from a 1-1 draw at Love Street. They were to end the season 12th in a 22-team league and finished the campaign drawing with Celtic at Cappielow as the Glasgow side took the title on the final day, but their fans were to be attacked with rivets from the shipyards as the infamous Cappielow riot ensued.

Morton's hero of the road to Hampden ,George French would tragically miss out on the club's biggest day.
But it was on 28th January the cup campaign kicked off, with a routine 4-0 victory over non-league Vale of Leithen. Goals from Bobby McKay and a George French hat-trick saw the 'Ton ease through against the Innerleithen side. It wasn't quite so straight forward a fortnight later though, as a Clydebank side who would eventually be relegated from Division One would prove far more stubborn opposition, cancelling out a first half McKay opener to earn a Valentine's Day replay on their own turf. There was to be no cup romance for the underdogs though, as Morton made no mistake second time around. It was the McKay and French double act again that were to make the difference- this time a first half double from the former, before the latter added a third in the second half. A last minute Bankies consolation took a bit of gloss off a fine result, but Morton had negotiated what could've been a very tricky replay with minimum fuss.
Next up was the visit of Clyde to Cappielow in Round Three, which saw a resounding victory against the Bully Wee, gaining revenge for that league reverse the previous month. No prizes for guessing where the goals came from- McKay netting the first before French's double sent Morton in 3-0 up at the break. With the clock running down, Alex McNab added a fourth before Morton keeper Davie Edwards was denied a shut-out by another last-minute consolation. There was to be a major upset on the day though as eventual champions Celtic were knocked out by Hamilton Accies, 3-1 at Douglas Park. A door had been opened for Rangers to end their 19-year hoodoo without collecting the cup. Or so they thought.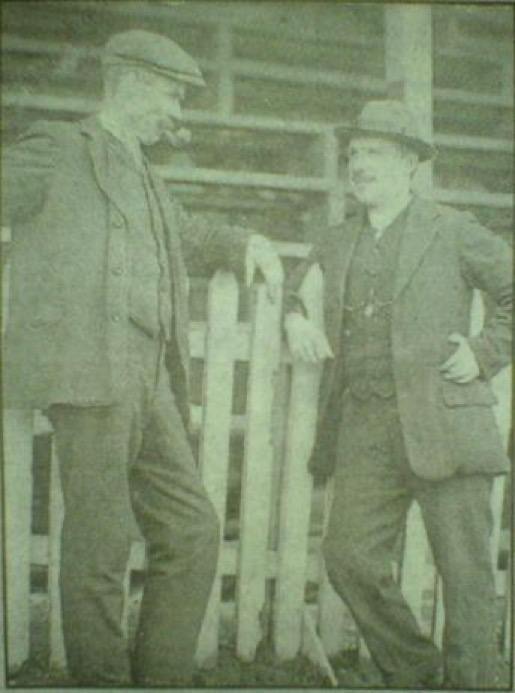 Trainer William Kennedy and Manager Robert Cochrane plot the downfall of Rangers.
Onward it was to Fir Park for a Quarter Final tie that would send a chill down the spines of Morton fans in modern era. Whilst our two cup defeats of the last couple of seasons there have been not only respectable, but very unfortunate, we've seen a 0-2 a 0-3, a couple of 0-4s and a 0-6 in both the Scottish and League Cups in my time watching Morton, just off the top of my head. But in 1922, Morton were to come out on top- the only time they have ever won at Fir Park in the Scottish Cup. In a thrilling tie, Alf Brown was to give the visitors a first half lead, and it took until the 75th minute for the Steelmen to restore parity. Any hopes they had of heading to Cappielow for a replay were dashed four minutes from time though as George French was again to prove the hero for Morton, banging home the winner for the good guys. Semi Finals, here we come!
The Semi Finals saw champions Rangers play cup holders Partick Thistle and Aberdeen face Morton. With both Hampden and Celtic Park being used for league games on the day of the Rangers v Partick tie, it was agreed that Ibrox would host the tie between the two Glasgow clubs. It's been suggested that money may have changed hands in order to soften the Jags' stance on neutrality, but those were never proven, and I can't imagine that two clubs with such proud moral fibres would ever indulge in the passing of brown envelopes, so we'll move swiftly on. 58,000 saw the holders fall to the Light Blues; Rangers winning 2-0 thanks to a goal from Geordie Henderson and a Sandy Archibald penalty (of course).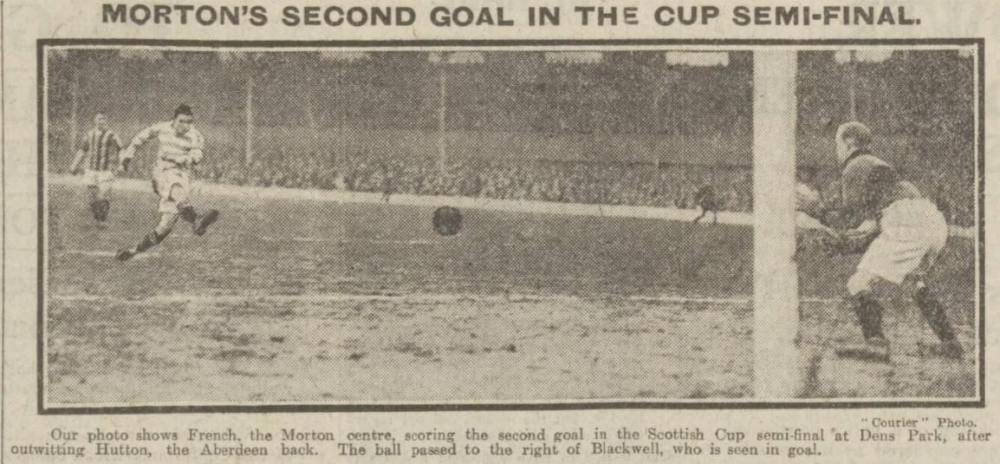 George French doubles Morton's lead in the Semi-Final win over Aberdeen at Dens Park. (Photo- The Courier)
But it was a trip to Dens Park for Morton to face the Dons in front of 25,000 on the 1st of April. There were to be no April Fools on the Morton side though, as the Greenock's finest produced a scintillating performance to shock the favourites and proceed to the first Scottish Cup Final in their history. Once again, George French was to prove the hero with a first half double, which was added to by Alex McNab in the 52nd minute. Again, Morton were to concede late on, but the damage was done, and we were in the cup final! There was only the small matter of Rangers in the way of Morton and glory.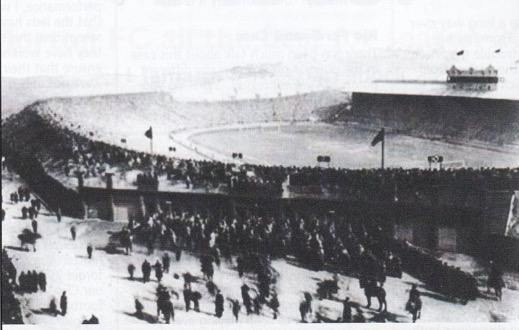 How Cup Final Day looked a century ago from Mount Florida.
So, Hampden it was- in front of 75,000 people one hundred years ago today. Morton were undoubtedly the underdogs, and were dealt a massive blow with the absence of star striker George French on the big day through injury. That the man who had scored nine goals en route to Hampden would miss out on Morton's big day, and against their toughest opponents of their cup campaign, was a terrible disappointment for both the player and boss Robert Cochrane.
The final itself wasn't a classic, with difficult weather conditions not helping to make a spectacle of a game that was reported to have been littered with fouls, so much so that Rangers were reduced to ten men, with captain Andy Cunningham forced to retire with a broken jaw in those days before substitutions were permitted. Oh well, never mind.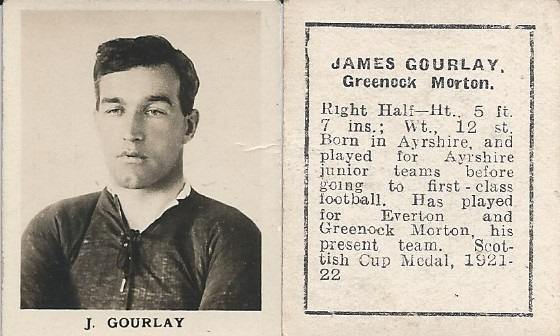 Morton's hero on the big day, Jimmy Gourlay was the first player ever to score from a free kick in a Scottish Cup Final.
By that point however, Morton were already a goal to the good. Rangers' keeper Willie Robb had been penalised for overcarrying the ball from his box and Jimmy Gourlay scored from the resultant free kick to give Morton a twelfth minute lead. The 'Ton were forced to defend for long spells to hold onto their lead as Rangers' winger Alan Morton tormented the underdogs' defence all afternoon and a succession of corners came to nothing before the referee's final whistle signified the single greatest moment not only in Morton's then 48-year history, but in the history of sport, and possibly in the history of anything, truth be told.
It was the job of Provost W.B. McMillan to accept the trophy on Morton's, and the town's behalf, his last duty as Provost a month before his death, having acted as Morton's President for some 27 years. Champagne was borrowed from Queen's Park as Morton had, perhaps cautiously decided not to pack any for their big day, but the celebrations weren't quite in full swing as the team caught a train to Hartlepool for a friendly which had been previously arranged for Monday the 17th. On their return to Greenock, 10,000 gathered at Cappielow to toast their heroes and the cup took its rightful place in the Cappielow boardroom (or pavilion, as it probably was at the time).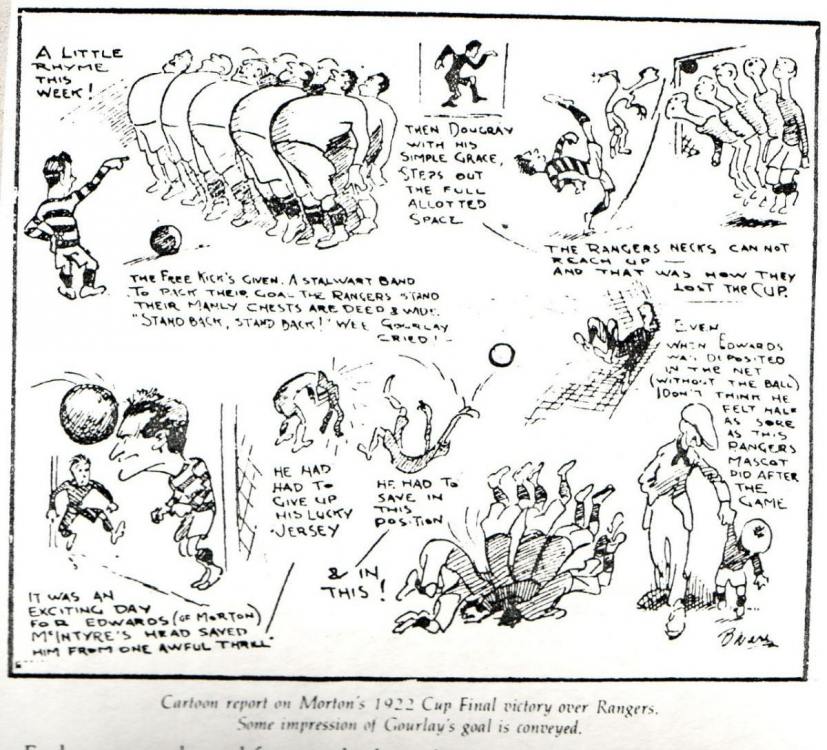 A cartoon depicting Morton's day of glory in the Hampden rain.
There were three remaining league fixtures after the final, including of course that draw that saw Celtic take the title on the final day before being sent on their way after a day of violence on East Hamilton Street as Cappielow attracted it's biggest ever crowd, officially 23,500; but whilst that day belonged to Celtic, nothing was ever going to detract from Morton's monumental achievement in bringing the cup to Greenock for what to date, was the only time ever. When will we see their like again?
Scottish Cup Final, 15th April 1922
Greenock Morton (Gourlay, 12) 1-0 Rangers
Morton: Edwards, McIntyre, R Brown, Gourlay, Wright, McGregor, McNab, McKay, Buchanan, A Brown, McMinn.
Rangers: Robb, Manderson, McCandless, Meiklejohn, Dixon, Muirhead, Archibald, Cunningham, Henderson, Cairns, Morton.
Referee: T Dougray (Bellshill)
Attendance: 75,000.
Thanks to Leon Mooney for his copies of archive match reports, the images provided and for fact checking the article. Other information taken from The Official History of the Scottish Cup: The Story of Every Season 1873-2016, by David Potter and Phil H Jones. All uncredited images are courtesy of Leon Mooney.
11