Jim McAlister - A Tribute
---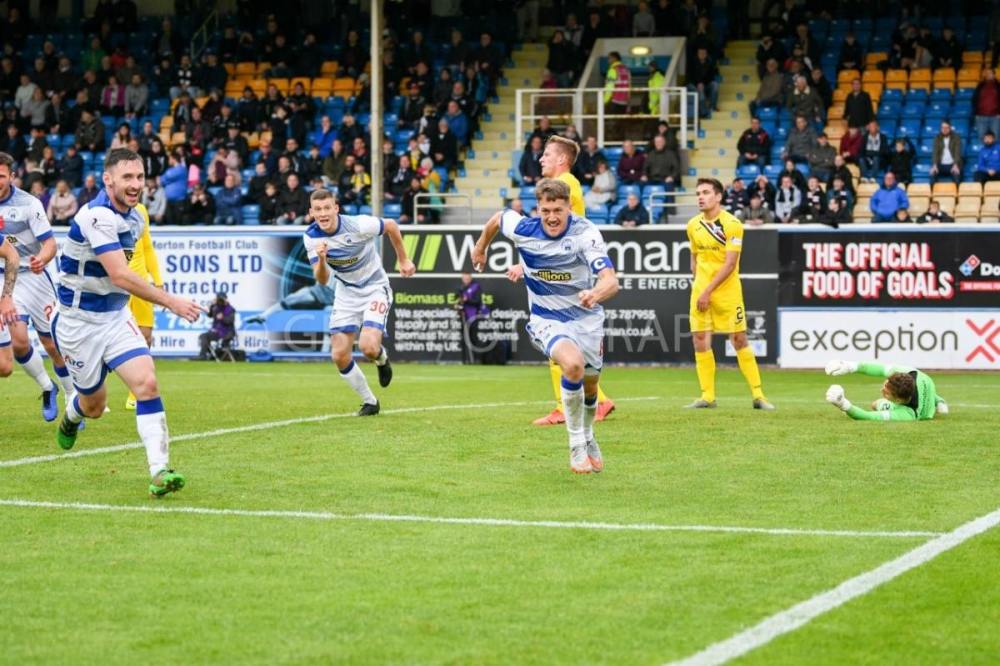 (Photo- Gary Bradley)
Jim McAlister- A Tribute
by Russell Gordon
After penning my thoughts on the erstwhile Morton Chief Executive Dave MacKinnon's departure on Thursday I had hoped that one day I'd be able to write more fondly of someone departing Morton for pastures new.  I didn't expect to be doing so only a few of days later, though.
Whilst there remains a number of questions to be answered in relation to the shock announcement, those questions are for another day. After 342 starts, 19 substitute appearances, 23 goals, 8 yellow cards and 1 red card, the curtain came down on the career of one of Morton's modern day greats.
I won't pretend to recall an awful lot of the fresh faced 17 year old's contribution on his maiden appearance at Cappielow (as a player at least, the
Scotsport
cameras caught him at the age of 10 supporting the 'Ton against Dundee United in that heart breaking final day showdown in 1996) but his early days saw the predominantly right footed McAlister operate as a left winger. He went on to make two starts in turgid 0-0 draws at Borough Briggs and Links Park, and a further four substitute appearances that season, unfortunately not registering enough appearances to pick up a medal as Morton won the Third Division title.
The following season, Jim perhaps mercifully made only one start and had a splattering of substitute appearances as Morton's promotion bid collapsed after holding what seemed an unassailable lead at Christmas time. It might be worth noting that his only start was against Stenhousemuir, in one of the very few games Morton actually won in the second half of that season.
It was only a matter of time before Jim did establish himself in the first team though- and once he did, he was extremely difficult to dislodge, barely missing a game over the next six years. That period of course saw its ups and downs, from the play off failure at Peterhead, through getting his hands on a Second Division Championship medal and establishing Morton back in the First Division after that extended spell in the lower leagues that had been inflicted on the club. Whilst his 5 goals en route to winning the title in 2006-07 were all significant, with four of them coming in wins by the odd goal, it was his contribution to Paul McGowan's clinching third goal in the 3-1 Scottish Cup win over SPL Kilmarnock that was the real standout moment of the season for me.
After missing only one league game in his three seasons in Morton's first team in the Second Division, he only missed one in the following two in the First Division- suspended for a 1-3 defeat at McDiarmid Park, as St. Johnstone celebrated their return to Scotland's top tier. Unfortunately, Morton's overdue return to the promised land looked like a forlorn hope, so as he entered the final year of his contract, Jim's eyes naturally looked elsewhere. He attracted an unlikely admirer in Dan Petrescu, former Romanian international, and manager of his homeland's champions at the time, Unirea Urziceni; after impressing in a 1-3 pre-season friendly defeat by a team that would go on to compete in the Champions League, and make light work of Rangers in the process, that season. Whilst he played a trial game, nothing came of it and more local suitors began to keep tabs on him, notably Motherwell, our friends from Paisley and Malky McKay's English Championship Watford.
His final season of his first spell at Cappielow was to prove a toil though, as Morton struggled around the foot of the table. Jim's remarkably consistent run of appearances was brought to an abrupt halt when he broke his foot in a 3-3 draw against Queen of the South towards the end of the season, in what turned out to be the last time he turned out for Morton for over 8 years. It shouldn't be forgotten however that he did make a telling contribution, with his only goal coming in the final minute of a game against Partick Thistle at Cappielow as we were approaching the business end of the season. This was of course back in the days when the Maryhill Minnows managed to occupy a place in the upper two divisions of the Scottish game- changed days!
When the time came to move onto pastures new, it was SPL Hamilton that won his signature, but an indifferent 2 years at Accies saw them relegated in his first season and fail to make an immediate return to the top flight in his second. He did however manage a red card against Celtic for
"leaving the boot in on a prostrate (Mark) Wilson"
, according to the Daily Mail's match report at the time, so good on him.
In the summer of 2012, it was onwards to Dens Park, and the disappointment of another relegation followed as a Dundee side that were ill-equipped for the SPL after their short notice promotion due to the implosion of Rangers struggled to make an impact. He did get on the scoresheet for the Dees in a 5-1 Scottish Cup win against his former employers, choosing not to celebrate. In a three year stay on Tayside, he won a Championship winners' medal in our season of shame of 2013-14 and enjoyed a top six finish the following year, whilst Dundee United striker Nadir Cifci allegedly enjoyed a piece of Jim's leg, as they were caught up in a biting incident in a late season Tayside derby.
The next step in his career was to Blackpool, a club not without its problems and falling through the EFL. In Jim's first season, they were to endure relegation to League Two as the Karl Oysten roadshow worked to full effect. But promotion was secured the following year though the play offs, in a sparse Wembley as Blackpool's fans gave their gala occasion the short shrift in protest of Oysten's shenanigans. Another absentee (from the team at least) was Jim though, who had broken his leg earlier in the season.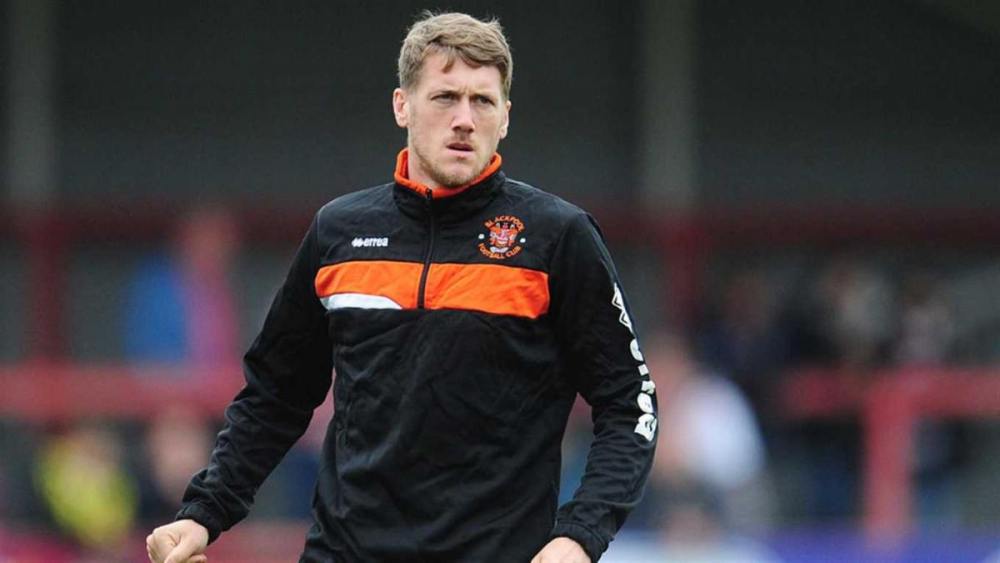 Jim's Blackpool days (Photo- blackpoolfc.co.uk)
After only two appearances the following season, it was time to come home and Jim joined Raymond's Revolution at Cappielow along with fellow veteran Chris Millar. By now operating as a central midfielder, he had an up and down first season as Morton struggled for the most part before rallying and finishing comfortably in fifth place in the table. One of the main reasons for the club's excellent late season form was the club captain's performances in an unnatural central defensive position at a time he was needed most to provide a bit of stability to what had previously been a shaky backline. Having not remembered seeing him in that position before, I'd go as far as to say he was the club's best centre back that season. He did also manage a crack at management on the final day, leading Morton to a 1-0 win over Dundee United, after Jonatan Johansson stormed out after a boardroom altercation with the chairman. There can't be too many guys with a 100% record in charge of Morton!

Jim takes charge of Morton for the only time in the 1-0 2019 win over Dundee United (Photo- gmfc.net)
Last season's curtailed campaign saw a headed goal in each of our home games against Dunfermline, the first being a late, late equaliser and one against Dundee in a 1-1 home draw. And Dunfermline were to be his final victims- his last goal coming in the recent 2-1 victory at East End Park, but not before he was ordered off for the first time in a Morton jersey, for a dangerous first half tackle in the 0-5 doing in Kirkcaldy, a month previous.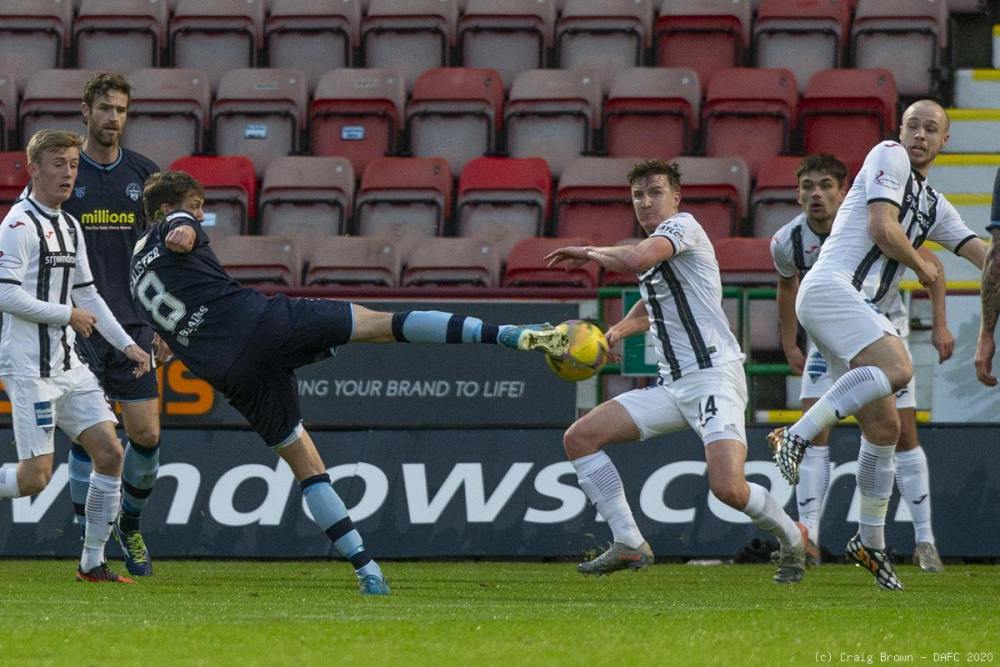 Jim's final strike in a Morton jersey, in the recent 2-1 win at East End Park (Photo- dafc.net)
In recent weeks, he's assisted Caretaker Manager Anton McElhone along with Millar and Brian McLean whilst also contributing on the pitch, until now, sadly. And let's not kid ourselves, it will be a massive gap that he leaves, on the pitch and off.
I'm at pains to label someone from the modern era as a legend at Morton, given that we're living through our longest sustained period of mediocrity in what is now approaching 150 years of history. But that shouldn't detract from the individual achievements of some. Whilst many of his peers' careers fell by the wayside, some fell down the leagues, some went junior, and some went out of football, it's testament to the dedication he had to his profession to have made so many consecutive appearances for Morton, and to have made the 7th most ever in spite of 8 years away will ensure that he has his own place in Morton's history.
Most new revelations to come from Cappielow this season have been met with anger, but the reaction to this has mostly been sadness, which is quite telling about the esteem he is held in and the affection his teammates and the fans have for him. Thanks for the memories, Jim. Morton will certainly be poorer for your exit.
1

13