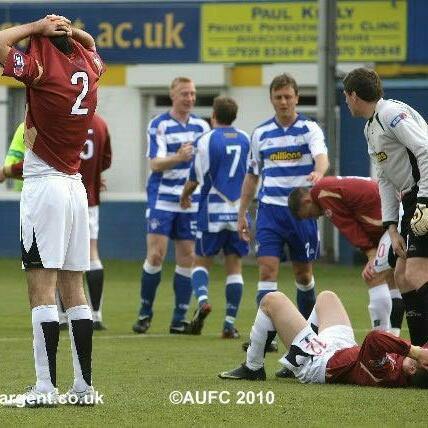 (Photo-D Sargent, Ayr United FC)
A Blast From The Past...
by Russell Gordon
With apathy and pessimism in plentiful supply ahead of Friday's winner-takes-all relegation showdown at Gayfield, someone has to look for some crumb of comfort heading into the game. So, whilst it may well be a case of clutching at straws, it should be noted that the weight of recent history is very much in Morton's favour. There's no point in pretending that we're not in a familiar position here, with the majority of our time since promotion in 2007 being spent towards the bottom end of the second tier and only one relegation in that period, in a season in which we didn't even get close enough to anyone to find ourelves in a real six-pointer all season.
However, when the pressure's been on in that time, and Morton have needed a result, they've generally come up with the goods, and it's often been memorable. 
Partick Thistle 0-3 Morton, 26th April 2008
During a torrid first season back in the First Division after promotion back to the First Division for the first time in six years, Jim McInally's charges found themselves struggling towards the bottom end of the table after a winter of discontent which included McInally banishing Chris Millar to the sidelines for the heinous crime of signing a pre-contract agreement at divisional rivals St. Johnstone before embarrassingly u-turning on his decision when he realised he was cutting off his nose to spite his face, a 1-6 hosing at Livingston and the final straw of a 1-2 Cappielow defeat by our nearest rivals Clyde, from a 1-0 89th minute lead. Outgoing Gretna manager Davie Irons came in and took the reigns, with a significant number of his squad already having jumped ship to the 'Ton as our old friends' reckless spending finally caught up with them.
Perhaps Irons' hapless predecessor's finest parting gift was the signing of Brian Wake from champions-elect Hamilton, however. Wake cut an awkward figure initially, with one particular miss in a home win against Stirling Albion marking his card in the eyes of this particular observer at the time. However, an unforeseen burst of form for Wake saw him start to rattle in the goals when he was needed most.
With Clyde losing 2-0 at Accies on the penultimate day, Morton took full advantage by beating Dunfermline 3-0 at Cappielow, with Wake's second goal in consecutive weeks opening the floodgates before a Ryan Harding strike doubled the advantage and Kevin Finlayson's wonder goal put Morton in pole position, but by the narrowest of margins.
We went into the final game against an already safe Partick Thistle having scored the exact same number of goals as Clyde, but having conceded one less. Only problem was, Clyde were at home to already relegated Stirling.
Morton ran out infront of a raucous travelling support knowing that all they had to do was match the Bully Wee's result, and came out the traps flying, with Wake getting on the end of Iain Russell's knockdown to fire us into a lead in front of the travelling hoards. Wake was unlucky not to double Morton's lead with a stinging volley before Finlayson's rasping 30 yard strike on the cusp of half time put Morton on the brink of survival. With Clyde keeping their end of the bargain, Wake added a third in the second half and the final whistle saw an anxious wait for all as we awaited news from Broadwood. When the news came through, the relief and joy for all was palpable as Clyde failed to add to their 3-0 lead. Morton had survived by a single goal, and for the Bully Wee it was the play offs, where they'd go on to stage their own great escape, their last before a fall through the leagues and a decade-long spell in the basement division.
For Morton though, this was a memorable victory. Not only for the drama involved, but the implications of an immediate relegation after years of trying to get into the First Division could've been terrible. We could now look forward and hope never to be in that position again...
Morton 2-1 Ayr United, 1st May 2010
With Irons' tenure having met a controversial end earlier in the season, and a management team of James Grady and Allan McManus leading Morton for the majority of the season, we headed into a shoot out for a place in the division with Ayr United. With Airdrie also in the mix, the likelihood was that we'd survive with a win, head into the play offs with a draw and go down automatically if Ayr turned us over. Airdrie losing at home to Dunfermline spared any worries of going down automatically, but after a 1-4 hammering at Dunfermline the previous week and a soul destroying last minute midweek loss to cup finalists Ross County in Dingwall, concerns over Morton's bottle were legitimate.
Just before the break, a mix up between Stewart Greacen, Erik Paartalu and Michael Tidser allowed Daniel McKay to strike low past Colin Stewart to give the Honest Man a first half lead. Another mix up, this time between Finlayson and Greacen, let in Junior Mendes to double their lead before the break, but the ex-St. Mirren striker fluffed his lines and his effort was batted out by Stewart for a corner.
The second half wasn't pretty, with Ayr failing again to extend their lead and Morton resorting to launching balls on top of of Craig Samson and hoping for the best. Eventually it was Greacan who turned hero after his earlier lapses, as he tapped home on 77 minutes following a flap from the Ayr custodian let us in. As Samson berated referee Chrlie Richmond for allowing the goal, perhaps he'd have been better targeting his frustration at his teammate, Dean Matthew Keenan, who did his goalkeeper no favours whatsoever. With the draw good enough at this point, and Ayr now needing to grab a winner, they threw the kitchen sink at Morton, missing one glorious chance before their own defensive mix up four minutes from time allowed Finlayson to cross to Carlo Monti, who calmly slotted into Samson's bottom righthand corner and send three sides of Cappielow wild, and the other into a state of despair. The booking Monti collected for removing his shirt as he celebrated was of little concern to him and at the end, the Ayr players slumped in disbelief at their failure to win a game that they had in their grasp, and the consequences of that failure, whilst their fans took the defeat just as badly, with some running to the Cowshed to remonstrate with the home support.
In truth, Morton should never have been in that position going into the final game, and once in that position were extremely lucky to win it, but it was an extremely satisfying outcome nevertheless, not least to see poor Dean Matthew in tears at the end of the game.
Falkirk 0-2 Morton, 20th April 2019
Whilst there were two remaining games for both teams after this game, Morton's trip to Championship bottom dogs Falkirk caught the attention of most observers for a few weeks before the game. It stuck out as the pivotal game in a fascinating relegation dogfight, which also included Queen of the South and Partick Thistle.
This was in no way a meeting of old friends- the two clubs had a dreadful relationship after Falkirk's illegal tapping of Morton boss Raymond McKinnon and McKinnon's decision to jump ship. After a promising start under McKinnon, Morton's form had nosedived under his successor Jonaton Johansson and in truth, the football was turgid and relegation concerns completely justified. There was another late goal against Highland opposition to break Morton's hearts the previous midweek as Inverness snatched a late equaliser in a 2-2 Cappielow draw where a win would've given us a welcome cushion going into the game. Falkirk on the other hand had always threatened to come good before suffering set back after set back and found themselves in the mire with games running out quickly.
Any concerns that the lapse against Inverness would come back to haunt Morton were to prove unfounded. In a game in which midfielder Michael Tidser was a main focus of attention having signed a pre-contract agreement with the Bairns, he was one of many to produce a fine performance as Morton struck a brutal blow to Falkirk's hopes of survival, whilst almost guaranteeing our own safety at the same time. Whilst Morton were comfortable in the first period, with the best chance falling to Rangers loanee Andrew Dallas, it was in the second that we really turned the screw. Charlie Telfer skinned ex-St. Mirren haddie Ian McShane and set up Greg Kiltie to fire low into the corner and give us a deserved lead. Reece Lyon should've doubled Morton's lead, but shortly after, the lead was doubled in comical circumstances as Falkirk defenders William Edjenguele and Ciaran McKenna drew comparisons between themselves and Willie Miller and Alan Hansen for probably the only time in their careers. As we know however, the comparisons weren't favourable. Kiltie latched onto the mistake to return the favour to Telfer, who buried with aplomb.
Falkirk were broken, and it was great to watch. The remainder of the game saw them trying to reduce the arrears, but in truth, Morton were never under any real pressure. Over the next fortnight, Morton eased to a sixth placed finish, and Falkirk went down to League One. Shadenfreude really is a wonderful thing.
Arbroath v Morton, 30th April 2021
Who knows what Friday will bring? Hopes aren't high, but you never know. Morton have had a habit of rising to the occasion when they need to most, so not all hope is lost just yet. I hope to never have to write an article like this, in circumstances like this again, but if I do, I won't complain about having to include another entry into the list.
Come on the 'Ton!!!
9