October 4th -
2014 - Brechin City 3-1 Morton (O'Ware)
The highlights clip is included for the sake of completeness.
A defeat at Glebe Park followed by the comments of Ray McKinnon and Jim Duffy. Haud me back...
2008 - Ross County 3-0 Morton
2003 - Morton 1-3 Berwick Rangers (Walker)
Kevin Thomas helped Berwick take a 2-0 lead at the break and was given an ovation when later subbed. Trialist Jani Outinen made a sub appearance and started a brief comeback. He was signed at the end of the season.
1997 - Morton 1-3 Raith Rovers (Blaikie)
Billy Stark and Frank Connor's first game in charge andthey were given a look at the monumental task ahead of them. Raith picked off our hapless defence at ease whilst Frank Connor slowly turned purple shouting at the team. The home fans made it clear where the blame in defence lay with choruses of "Reidy Reidy, get to f**k".
Our goal came after most of our support had left.
1994 - Dundee 2-1 Morton (Anderson)
A dodgy penalty decision contributed to our exit, but following John Anderson's second half header, we did everything but score.
1986 - Clyde 1-2 Morton (Robertson 2)
1980 - Morton 2-2 Rangers (Busby, Ritchie pen)
Nearly. Our best chance at getting our first home win against that mob in over 60 years and we let a 2-0 lead slip. Drew Busby, making his second appearance, got his first goal for the club.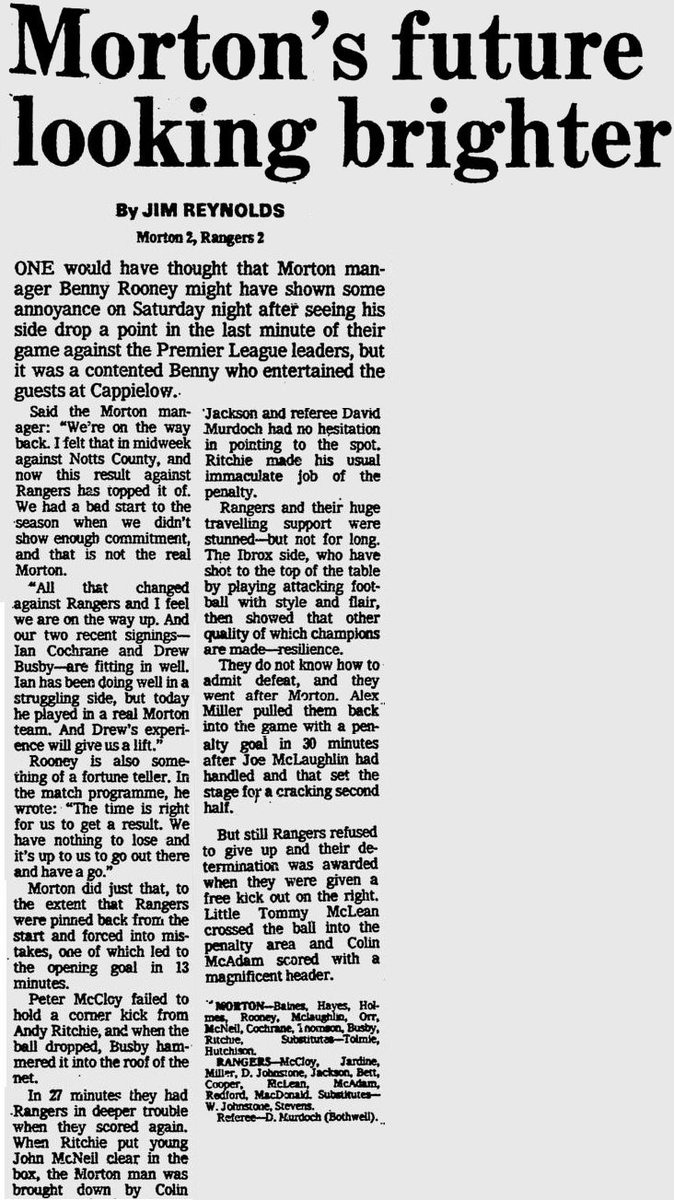 1978 - Kilmarnock 2-0 Morton
League Cup 1st leg.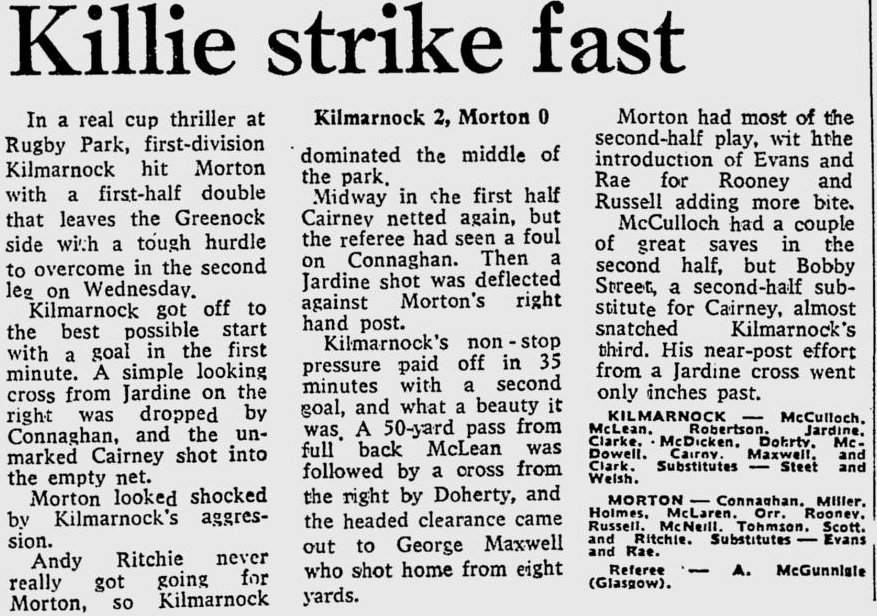 1975 - Morton 1-1 Dunfermline (Hayes)
Davie Hayes' first goal for Morton.
1969 - Hibernian 1-0 Morton
1966 - Morton 9-1 Stenhousemuir (Bolton 4, Mason 2, Harper 2, Borthwick)